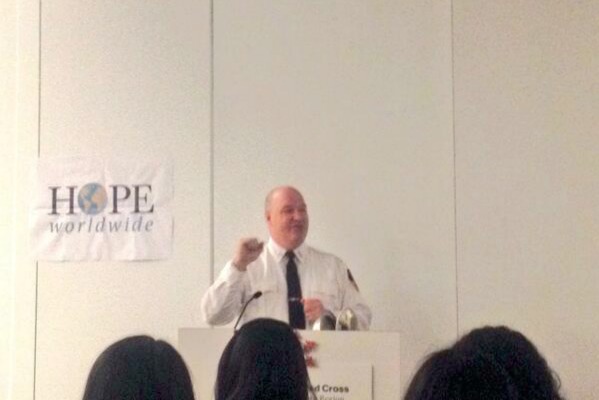 I mentioned that my family and I participated with Hope Worldwide in the Red Cross and HOPE Worldwide Martin Luther King Day Fire Safety and Disaster Prep Fair. For this last post regarding the event, I will share the highlights regarding what Captain Anderson and Lieutenant Zitto from the Fire Department of New York (FDNY) shared about needing to have a plan in case of a fire.
-Home fire drills are needed. Schools are supposed to do about 10 fire drills a year. Do you have fire drills at home? (I admit that I do not, but I will after this class.) Since 80% of the fires and 90% of the fire fatalities happen in residential settings, it is important. Your fire drill should have a few things involved in it.
-You have to know what kind of building you live in. if you have fire escapes, then you live in a non-fireproof building that means that the fire can travel in between the walls to the different apartments.
If you live in a tall building and there are no fire escapes, then that means you live in a fireproof building. If you live in a fireproof building and there's a fire in your apartment then you need to leave and shut the door. However, if you smell smoke in the hall, don't try to leave your apartment. Just call 911. While the building is not smoke proof it is fireproof. To prevent the smoke from coming into your apartment, throw a wet towel down at the bottom of the door so that the smoke doesn't come inside. Also, keep duct tape in your closet so that you can seal door seams and air vents.
If you live in a non-fireproof building, get out if possible. (Try to get on a level underneath the fire. Never climb up towards the roof, because fire rises.)
-Once you get out, make sure that you have a prearranged meeting place set up so that everyone in your household knows where to meet. That way, no one will try to go back inside to find the person who they don't see.
-An American Red Cross volunteer also shared that it is important to have an emergency bag prepared to take with you. It should include items like water, food, a flashlight, a first aid kit and such. (You can find a full list of recommended items or purchase a pre-made kit over at the ARC Get a Survival Kit page.
In any event, I learned so much. Be sure to catch all of the other coverage:
–Help the Red Cross help you
–Kitchen Fire Safety Tips
–Preventing fires
–Smoke and Carbon Monoxide Detector Safety Tips
If you enjoyed this post, don't miss future ones! Please be sure to sign up for my biweekly email updates. (If you like getting updates as they post, you can follow me on Facebook or Twitter.) Thanks!