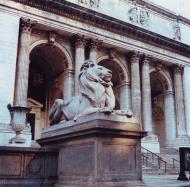 Originally posted on June 7, 2012 and updated on July 23, 2013
I was reminded of how much I love libraries last week. In addition to all of the great books, activities and such…they have air conditioners! Last week was extremely hot in NYC and I found myself with 2 hours to spare in between appointments downtown. I went to Starbucks, but it was filled to the brim with a line practically to the door! As I roamed around the street looking for another place with cool air where I could type up a writing assignment, I bumped into the Jefferson Market Library. As I was going in, a famous "pretty woman" actress and her family were coming out…proving that we all need inside family (or solo!) activities during the sweltering summer heat….
Libraries are great places to read with your children and to attend special activities and events. Many branches offer free story hours, arts and crafts, workshops, films and (most importantly!) the opportunity to borrow books.
Brooklyn Public Library
You can find profiles, services, programs, events and exhibitions, news, etc. on their site.
Brooklyn also has a First 5 Years site for parents of children (birth through age five) where you can learn how to share books with the youngest of kids and find out about BPL programs and services.
New York Public Library
The New York Public Library (NYPL) consists of five central libraries and 80 branch libraries located in Manhattan, the Bronx and Staten Island. The site has a "Classes, Programs & Exhibitions" section that keeps you up to date on the latest happenings at the various member libraries. The New York Public Library also publishes a monthly "Events" booklet that lists citywide activities and programs and is available at each branch.
Kids Section
The NYPL has a special "On-Lion for Kids" site that has Summer Reading 2013 book list recommendations, games, library event picks and more.
Queens Public Library
This site shares information about the libraries that fall within the Queens library system. Book picks, events and other library services are featured. There are also a variety of highlighted events for families and kids.

Do you and your kids have a favorite local library?
{Post image courtesy of the New York Public Library.}
---
If you like this post, please consider…
-Following Mom in the City on Twitter
-Liking Mom in the City on Facebook
-Signing up for Mom in the City's FREE weekly email newsletter