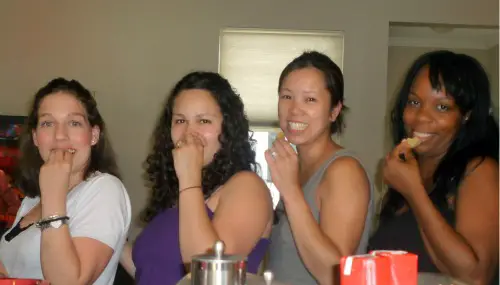 Recently, my friends at TheMotherhood asked me to be a part of a local blogger get-together sponsored by Frito-Lay.  The focus was "perfect pairings" – of chips and dips.  Since my family already buys Frito-Lay's Tostitos for gatherings at our home and I liked the challenge of creating my own dip, I signed on.  We entertain at our home several times a month. Tostitos chips are often part of the snacks. Both kids and adults enjoy dipping with them!
Last Wednesday, I met up with a few mom bloggers at Suzanne's lovely home. We had a lovely time eating the various chips and dips that we had prepared.  Suzanne had also graciously made a ton of food (burgers, hot dogs, pasta, etc.) to go along with the chips and dip.  Lisa had prepared some tasty cupcakes to end our meal.  (I, on the other hand, just barely brought myself and my dip!)
Let me just write that I was stressed before going.  I am in the thick of camp registrations and my "to do" list is currently longer than my arm…and I'm not even exaggerating!  Earlier that day, I had run to the grocery store to get the ingredients for the mango peach salsa dip that I made.  At first, I was all like, "Now, I see why people just buy pre-made stuff – it's less expensive and less time consuming…grumble, grumble."  However, as I continued to chop and dice, I grew calmer.  Then,when Sean (my 4 year old son) asked to help and later Michael (my 7 year old) tested the two versions, homemade cooking once again made sense.  There is just something special about personally making something that your family and friends enjoy.  (I also realized that I bought twice the amount of ingredients that I actually needed, so the cost ended up being comparable to the store brand!)
I wrote about the spicier version of my mango salsa on Mango peach salsa "with a kick".  Here's the "milder" version: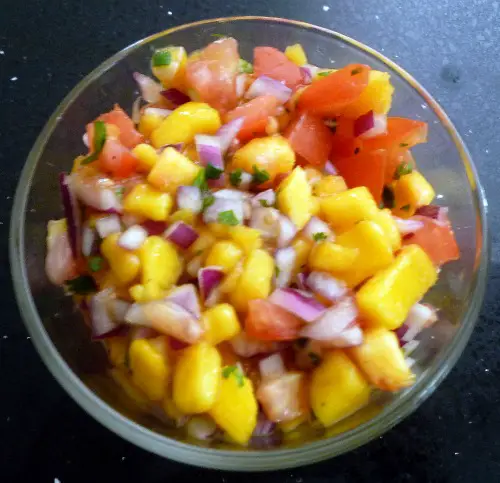 Mango Peach Salsa
Yield: 8 servings

Ingredients
1 cup peeled, chopped mango
1 cup peeled, chopped peach
1 cup diced red onion
1 1/2 cup diced tomato
2 tbsps chopped cilantro
3 cloves minced garlic
Salt and pepper to taste

Cooking Directions
1. Simply mix all of the ingredients together in a medium bowl.
2. Refrigerate to chill…and enjoy!
For other dip ideas:
-Suzanne's Holy Moly Guacamole and Spinach Dip at Frito Lays & Dip, a Perfect Pairing!
-I will update this with Lisa and Lauren's recipes once they post them to their blogs.
-Frito-Lay: http://www.fritolay.com/recipes/ and http://www.facebook.com/fritolay (to view cooking webisodes from Frito-Lay's Flavor Kitchen)


Thanks to TheMotherhood and Frito-Lay for providing the chips, salsa ingredients and a financial stipend for participating in this campaign.