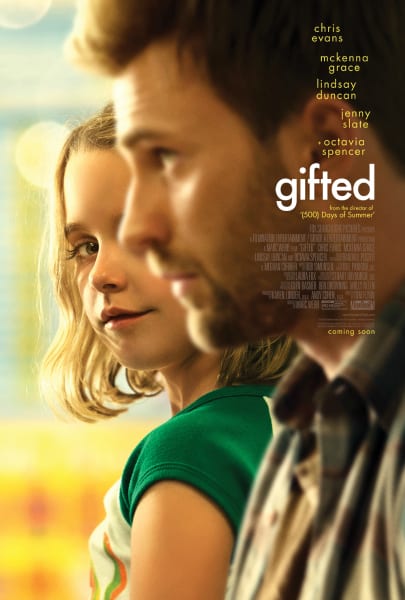 Either the term "gifted" is overused in our American educational system or the Gifted movie should have been entitled "Prodigy". See the trailer for yourself:
Gifted Movie Trailer
I went to see an advanced media screening of
Gifted
with a girlfriend and we both really enjoyed the movie. In some ways, I could relate to Frank Adler (Chris Evans) who is raising a gifted child, but I couldn't in one major way. My sons are both "gifted", but his young niece Mary (Mckenna Grace) wasn't just gifted..she was a prodigy and/or a genius!
3 Ways I Could Relate:
-I think that Frank did a great job of loving Mary unconditionally. Unlike his mother, Evelyn (Lindsay Duncan), he wasn't trying to live vicariously through the 7-year-old math prodigy. Unfortunately, I see a lot of that vicarious living in many parents of gifted children. I remember when Michael was in second grade, one of the other parents whose child was also in the gifted class asked me, "Does Michael do his own homework?" I was confused because (in my mind) I wondered, "Who else would do it?" When I answered, "Yes", she asked if he did all of it and looked surprised when I answered "yes" again. Later, Michael's gifted program teacher mentioned that she doesn't even give those kids homework because the parents get too involved. The homework becomes more of a reflection of what the parents can do instead of the kids. To me, that is really sad.
-Frank focused more on Mary's character than her achievements. While I was definitely impressed by Mary's math genius, my favorite part of the movie was when she defended a fellow classmate who was being teased. My husband and I try to stress to our sons that we care more about them doing their best than the results. If their best is a "C" then we would be happier with that (in theory, at least) than an "A" that they phoned in. I remember one time Michael mistakenly left a homework assignment at home. His teacher told him, "Your mom is going to be so upset with you!" She had not received the memo that I'm not that type of parent. Alexander Pope was right: "To err is human." Fortunately, Michael knew better. As he told me the story, he said, "I said, "No she won't. My mom only cares if I do my best!" Once I realized that he thought it (instead of saying it out loud), I was so happy that he understood the difference. With our younger son Sean, we are more concerned that he is kind than that he is at the top of his class. We praise the fact that he is helpful and patient with other kids more than his report cards.
-Frank tried to teach Mary that you can be smart without being smart-alecky. Both my husband and I were in gifted and talented classes throughout our school years so it's not a big shock that both of our sons are too. One thing that I really didn't like about those classes was that some of the teachers catered to the gifted students and talked down about other students. I have always had a strong sense of justice so I would often debate (both teachers and students) on the presumption that smarter (academically) equals better. I rejected that then. I reject that notion now. As I tell my sons, "Smart people should know better than to go around saying how smart they are." I have a low tolerance for obnoxious know-it-alls (kids or adults). This society already has enough of those types of people. I definitely don't want my sons to join that number.
1 Way That I Could Not Relate:
-Due to Mary's level of genius, it would not have been in her best interest for her not to get an advanced education. Like I mentioned before, my kids are bright but they are not prodigies or geniuses. I have worked with a lot of kids over the years. Many of them were really bright but I would only say that one was a (musical) prodigy or genius.
With regularly "gifted" children, there are more options. The biggest thing that I had to teach my kids was to be considerate of those who don't grasp things as quickly as they do academically. I tell them to learn from my mistakes. Throughout school, I would grasp concepts quickly and then talk through the rest of the class. Since I was getting great grades, no one ever really challenged me on the practice. They should have…because I was selfishly distracting others from focusing. With my kids, I encourage them to have a notebook to jot down thoughts, doodles, etc. or a book to read (depending on the teacher) so that they won't distract others when they get bored. So far, this technique has been working well.
In any event, I really enjoyed the Gifted movie. It opened in theaters on April 7th and I really think that you will enjoy it.