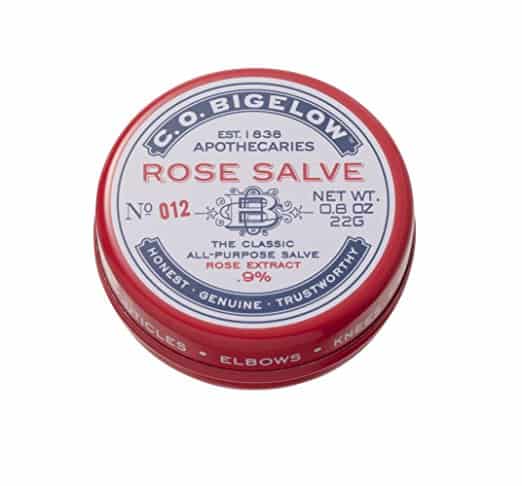 When I love a product or service, I tell everyone about it. That is why it was a perfect fit when SquashTheBeef.com invited me to be a part of their current campaign. SquashTheBeef.com is a new social media platform where participants can express their views about various topics. Personally, I appreciate that they focus on peaceful, respectful dialogue. We need more of that in today's society. I'm a pretty opinionated person, so it was hard to decide if I wanted to do a "beef" (opposing viewpoints about a given subject) or a "rant" (something that really bothers you)/"rave" (about something that you love).  Since the media is currently filled with beefs and negative rants, I decided to do a positive rave rant about my new favorite beauty product – C.O. Bigelow Rose Salve.
For my 44th birthday last month, my brother and sister-in-law sent me a gift certificate to Bath and Body Works. Since I haven't been to that store in a long time, I went on their website and browsed around. I wasn't really expecting to find a facial skin care product there but the C.O. Bigelow Rose Salve caught my attention. While there is science behind the "Black don't crack" stereotype, Black skin does have its own set of challenges. My skin has always been dry but I have seen a marked increase in dryness during my 40s. I have tried drinking more water, using avocado masks (which always worked in the past) and purchasing expensive moisturizers…all with little success. I was still getting dry patches of skin around my mouth. They weren't glaringly obvious but I still wanted them gone. I read the reviews for the rose salve and decided to give it a try. (What did I have to lose? It only cost $5.50…and it was a gift.)
I immediately noted a difference once I started using the salve. I especially noticed the change when I looked at a Poppa Peeke's Parenting video that I participated in this past weekend. I join around the 14-minute mark…
Let's just say that if I could only have
ONE
facial beauty product, then C.O. Bigelow Rose Salve would be it! If you get dry patches on your face, put this salve on and they will quickly disappear. You will have your healthy, glowing skin in your 40s back. On that note, do you have a favorite facial moisturizer? Let me know (and learn the only thing that I
don't
like about the  C.O. Bigelow Rose Salve) at
 https://www.squashthebeef.com/beef/best-facial-moisturizer-women-dry-skin/
.