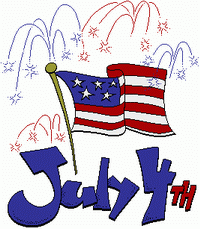 My husband and I cracked up laughing when we watched "Head of State", starring comedian Chris Rock back in 2003. In the movie, a Black man becomes president of the United States (way before the reality of Barack Obama). Every time his competitor (the current VP) makes a speech, he ends it proclaiming "God Bless America — and No Place Else!" The reason that line was so satirical was that the sentiment was very common in American politics at the time. American government was very self-centered and self-focused.
Don't get me wrong. I love America and the freedoms that we possess as Americans. I think that it's the best country in the world to live (that's why I live here!). However, I leaned more towards the view of Chris Rock's character – "God Bless America and EVERYPLACE Else". I still do.
As we celebrate the Fourth of July / Independence Day, I think past the fireworks, parades, picnics and barbecues (although my family really loves ourselves some good bbq!). More than anything, I'm grateful and proud that we're emerging into a country that values all people – both in America and abroad. We're all people. May God bless the whole world!