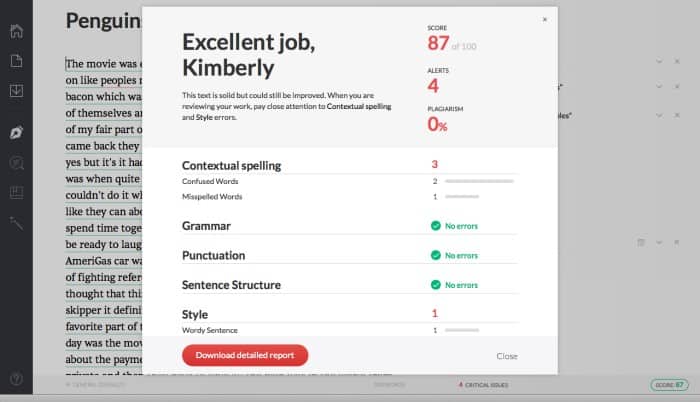 I noticed that several of my Facebook friends have liked the Grammarly.com grammar checker page. That is why I was interested in testing out the tool when the company's rep reached out to me. As a blogger, I write a lot for both this site and my brand clients. I also create content for the sites of my web design clients. In addition to my business writing, I like to stay connected to my family and friends on Facebook and other social media platforms. Suffice it to say, creating quick content is an important part of my life. If Grammarly could help, I definitely want to know.
This year has been busier than ever, so I have started dictating a lot of my content. I will say my thoughts into a dictation app, email the notes to myself and then edit the content in a word processing program. I wanted to know if Grammarly could help streamline the process. Here's what happened…
After logging into my premium account, I pasted some dictated notes (my sons' recorded reactions to the Penguins of Madagascar movie) into a new Grammarly document.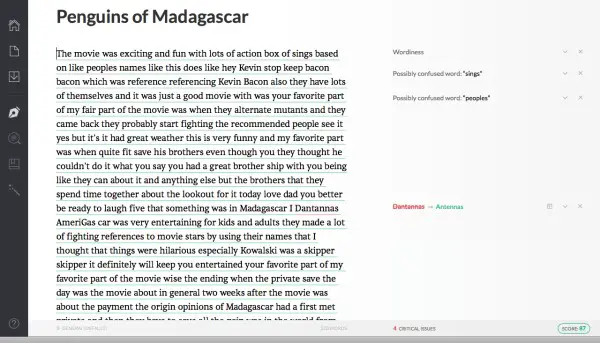 I was impressed by how quickly the Grammarly tool checked my writing. It quickly caught some critical issues and gave me the option of downloading the information into a pdf. Since I hire writers sometimes, I was also pleased to have the plagiarism check option.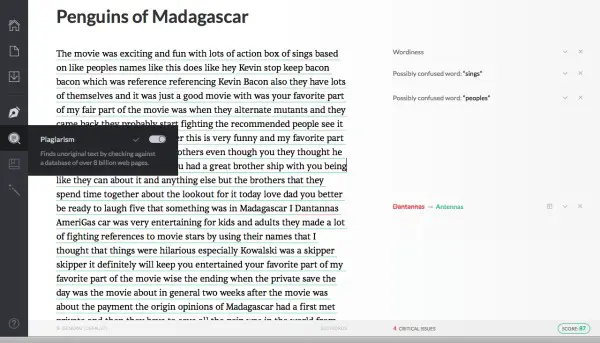 The vocabulary enhancement tool was also helpful, since I have a tendency to overuse my favorite words. I often have to go back over my work with a thesaurus so that I don't use words like great (which is also a vague word according to Gram marly) multiple times.
One thing that is important to note is that Grammarly isn't supposed to be a final proofreading tool. I think that it's a good start but that it's best used for a second look at your writing. That is why I appreciate that Grammarly also has a professional proofreading option for your documents. While I wouldn't use a proofreader for regular posts or social correspondence, I would definitely consider purchasing this option for premium sponsored content – especially if I am in a time crunch.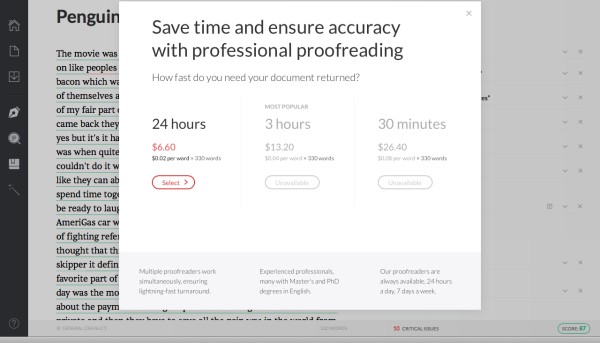 In any event, if you could use a second set of eyes on your writing for academic, professional or personal use, then consider a subscription to Grammarly.com's grammar checker page. Currently, they are offering a 20%OFF promotion on all of their plans. You also get a 7-day free trial to check it out. A subscription to this service would also make an excellent last-minute holiday gift for any writer friends on your gift list…