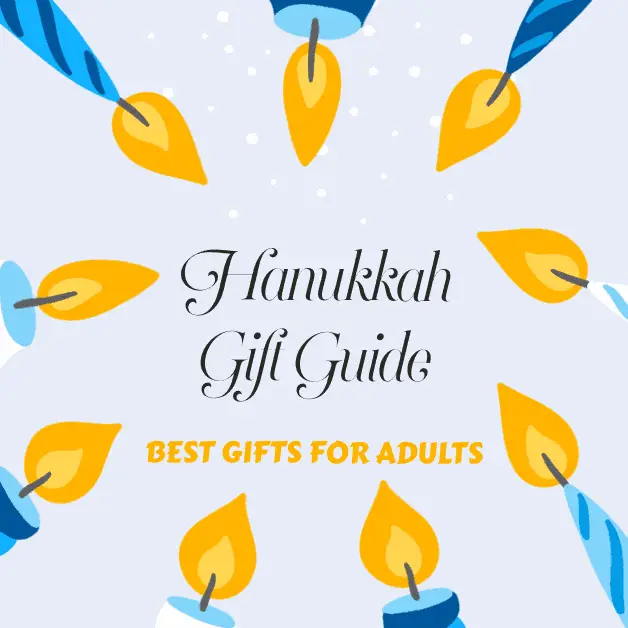 Hanukkah 2020 begins on the evening of Thursday, December 10th, and ends on the evening of Friday, December 18th. Since it's the first major December holiday (and I live in a predominately Jewish neighborhood), I'm starting off my holiday gift coverage with a mini Hanukkah Gift Guide.
There are plenty of gift idea suggestions for kids so I am sharing seven Hanukkah gift ideas for adults. Of course, M.O.T. (Member of the Tribe) adults can share some of the sweet treats with younger loved ones if they want to do so.
Hanukkah Gifts
 Kosher Chocolate: Sales of chocolate have been steadily on the rise this year. That is why I like this 8 Days of Hanukkah chocolate gift mailer from Sugar Plum. It includes an assortment of eight Kosher chocolates hand-made by epicurean artisans. The gift box packaging is also bright and festive.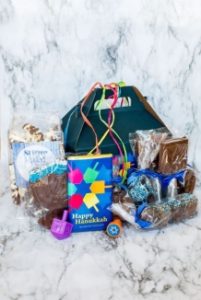 $49.00
2. Hanukkah Shirts: My family's tee company (Our Family Tees) created a cute line of Hanukkah shirts a couple of seasons ago. Below are some of the bestsellers:
3. More Sweet Treats: The whole family will love the items from FATTY SUNDAYS' Hanukkah shop – including custom Chanukah chocolate covered pretzels.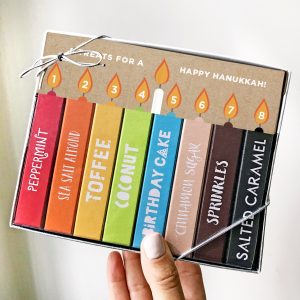 $36.95
4. Cooking Course: Even if your budget is $0, you can give this thoughtful gift! YIVO Institute for Jewish Research is currently offering the educational course, A Seat at the Table: A Journey Into Jewish Food, for FREE. The course explores Jewish fare and culture (focusing on the Ashkenazi Jewish experience) and its modern culinary renaissance.

The tuition for this course is free if you register before December 31. (You can actually take the self-paced class at any time once you have registered.)

5. Menorahs: I was introduced to Impression Judaica by Jessica Kobrin Bernstein (a fellow blogger) several years ago. It is the business of her talented husband, Rafi Bernstein. Rafi sells some beautiful Judaica – including custom and handmade items – at Impression Judaica. The menorahs are especially noteworthy.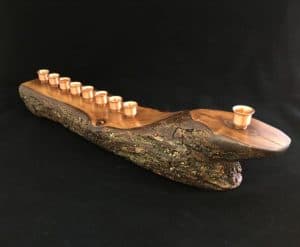 6. Mezuzahs: I saw some beautiful mezuzahs at a trade show several years ago. Unfortunately, I no longer have the company's contact information. Thankfully, there are several other lovely options. Etsy offers a wide range of mezuzahs. Rafi Bernstein (whom I mentioned earlier) also has a "Design Your Own Mezuzah" site at designamezuzah.com.

7. Chanukah House: I couldn't end my list without including the DIY Chanukah House Cookie Decorating Kit from Manischewitz.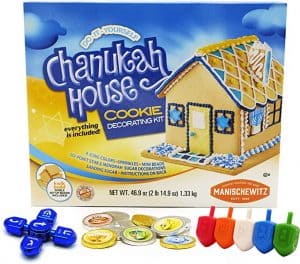 Obviously, food dominated this mini Hanukkah gift guide. What can I say? I'm a food lover."Hanukkah Sameach!" (Happy Hanukkah!)
{Post images courtesy of their respective sites.}