Tomorrow is Sean's third birthday. Right now, I tell him every night that he is my favorite 2 year old in the universe. Starting tomorrow, I'll be telling him that he is my favorite 3 year old in the universe. It's true. I really am very fortunate in that I both love and like both of my sons. These are the three things that I love the most about Sean….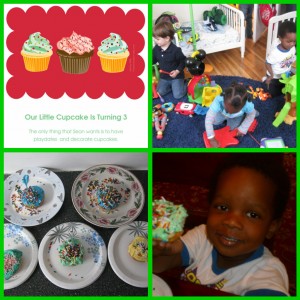 3. He is my snuggle buggle. That's what I call him, because he is so tiny and huggable. He's still barely fitting into some size 2 clothes, so I was starting to worry. He had his annual check-up last week though and he is normal/in the 50th percentile. Whew! I can cuddle him a bit longer with no worries.
2. He has a mind of his own. Unless his personality goes through a drastic change, I don't think that we will have to worry about Sean blindly following the crowd. He knows what he wants and what he doesn't want and is very clear and quick to say "No" when someone is pressuring him to do something that he does not want him to do. Although that can sometimes be frustrating for me as a parent (i.e. as I anticipate potty training wars!), for the most part I love it. For instance, when we were trying to plan his birthday celebration, he was very clear about what he did and did not want. He did not want a big party. He wanted three gifts; a playdate with his little friends and he wanted to decorate cupcakes with them. He also wanted to have a little family dinner with his grandparents. That's it. So that is exactly what he received. (You know what? It was one of the easiest, fun birthday celebrations ever.)
And
1. He is the coolest little kid ever. I know that you're probably thinking that I'm saying that because he is my kid. That's partly true (as in the "ever" part). However, I wouldn't say that about Michael…I would say that he is the friendliest kid ever – he's too friendly and smiley (like his mom!) to be "cool". Anyway, Sean is cool. He is so in control of his emotions that it is ridiculous. If he's not happy, he won't crack a smile – no matter what anyone does to try to make him. He makes you work for his affection (but not too hard and once he likes you, he really likes you and will "miss you" whenever you leave his presence). I'm telling you, even at the age of 2, he has swagger. He bops his little head when someone lets him listen to music on their iPod; he spins the turntable when we're playing DJ Hero while throwing his other little hand in the air; and (cutest of all), he will get down in the floor and break dance if you ask him how he dances. He will say, "You do ballet, MaMa. I dance hip-hop."
He's so scrumptious at times…I just want to eat him up!
So…Happy Birthday dear Sean-y! Happy Birthday to you (my sweet little cupcake)!