I hope that all of you have a wonderful day on Sunday. Happy (early) Mother's Day.
On Saturday, we'll be in Queens celebrating with my husband's family. Then, on Sunday it's church and "fill in the blank" (my husband tries to "surprise" me).
I must say that if my weekend is half as good as my week has been, it's going to be a great Mother's Day weekend. I've had a blast reading all of your encouraging emails and well-wishes. Ditto! I've also been able to attend some fun events this week. There was a lot going on and several fun happenings that I wasn't able to attend. (I try not to go to more than two events a week tops or it throws off my family/household balance – family first!) I was fortunate enough to go to two wonderful outings though.
1. Bright and early on (rainy) Tuesday morning, I made a NASDAQ appearance as an "Ambassador Mom" for 1-800-FLOWERS.COM. Although the stock market is still a bit of a mess, it was fun being on the floor for the bell ringing. I was also able to meet/re-connect with some great mom bloggers including Nicole Feliciano, chefdruck, Carol Cain, Nikki and Jennifer Perillo. (If you're interested in that type of thing, you can see more photos and a video here on the NASDAQ site.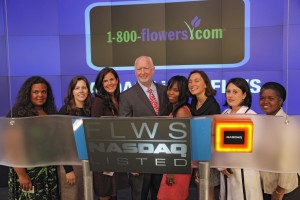 Picture of the mom bloggers with 1-800-FLOWERS.COM founder Jim McCann
and
2. On Thursday night, I had a wonderful time at the 1st Annual Mom's Nite Out. I went to a party hosted by three warm, amazing women – Maria Bailey, Kim Orlando and Katja Presnal – at the Wyndham Garden Hotel.
I had told my husband about Mom's Nite Out weeks ago. He called me on his way home asking if I'd like for him to pick up anything in particular. I mentioned that he could get whatever he wanted, because I was going out. He has so much going on (work, school, etc.) that he had totally forgotten about it. That was alright though, because I still left as soon as he got home!
I felt like I had "Pixie Dust" on, because I kept winning prizes (which I usually don't!). I won a book (The Lifestyle Fitness Program from "The Mojo Coach"), a game (Family Talk), a beautiful basket made in Uganda (from The Blessing Basket Project) and best of all a 2 night stay at an indoor water park hotel (at Waterbury's Coco Key in Connecticut). My husband was happy to hear about the Coco Key prize because we're always looking for new places nearby to get away for a couple of days as a family.
On top of all of my wins, I left with a great bag of assorted gifts from various companies that appreciate moms. Thanks 1-800-FLOWERS.com, ClearEars, Supergoop, Little Debbie Snacks, Allergen Block, Propel Enhanced Water, e.l.f. (eyes lips face), Carolina Pad, Name Your Tune CDs, Moving Picture Books, Today's Moms, Smart Mom Solutions, Family Wealth, The Shandle, Vintage Body Spa, Duncan Hines, French's Foods, Welch's, Jose Cuervo, Brooklyn Cyclones, Honest Beverages and momlogic!
I was like a little kid when I came home from the party going through everything as my husband looked on. He was happy about the Brooklyn Cyclones tickets because he has been mentioning that he'd like to take the boys to a baseball game. I thought that they were too young to sit through a game (I still am!), so this will be a good test before they go to a major league game. I was most excited about the Carolina Pad notes journal, the e.l.f. (eyes lips face) mini makeup collection, and the gift certificate from the Family Wealth Planning Institute. (Speaking of planning…have you set up a legal guardian for your kids yet? If not, you can do it for FREE using www.kidsprotectionplan.com. Did I mention that it's free – as in, no more excuses?)
The prizes and "swag" were fun, but the most fun part was hanging out with other moms celebrating ourselves! I was able to chat with some of my favorite blogging ladies that I've know for a while: Maria, Kim, Kelcey and Amy; some that I've met recently: NYCity Mama, Green Baby_NYC, Babies Gotta Have It, Katja; and a mix of bloggers and marketers that I met for the first time that night: primetimeparent, theMotherhood, Jen, Carrie, Barbara, Ms. Latina, and NY Nancy. It was a good mix of people and I think that everyone had a great time. What still totally cracks me up though is when I meet someone and they say, "Oh, I've been following you." (No, they're not stalkers – they're just on twitter!) The conversation and the dessert – specifically the coconut cake from Magnolia Bakery (What can I say? I'm a foodie…) made my evening. At the end of the night, Maria asked me if I wanted to take the rest of the coconut cake home. Of course I did, but I didn't. I'm gearing up to take part in an athletic (personal) challenge next month and I don't need any extra temptation. Overall, the evening was excellent! I love being a mom. Moms rock!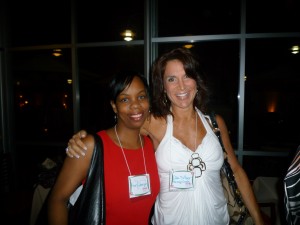 A picture of me with Debi "The Mojo Coach"/mom of 4
(Now you see why I didn't take that coconut cake home!)
Once again, Happy (early) Mother's Day!