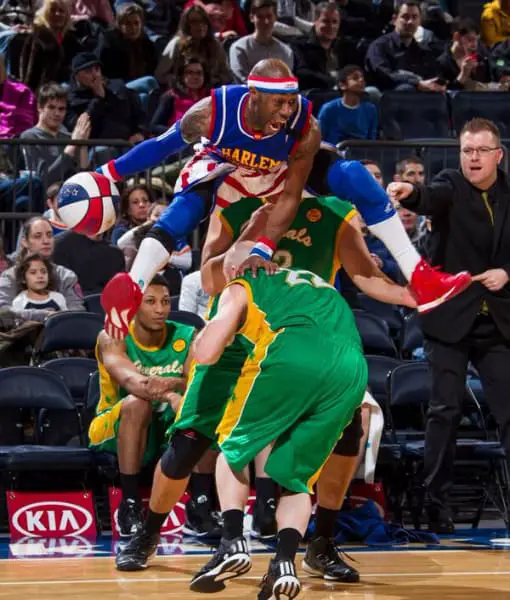 2/27/17 Update
My family had such a great time at the game. I definitely recommend seeing the Harlem Globetrotters at least one time. Below, are snippets of what I shared on Instagram.  (If we are not following each other on Instagram yet, I'm at instagram.com/nycmominthecity.)
Original Post
My family has wanted to see the Harlem Globetrotters, the legendary exhibition basketball team, perform for the last few years but we constantly had scheduling conflicts. That is why I am SO excited that we are going to be able to see the Harlem Globetrotters 2017 as guests of Madison Square Garden this upcoming Sunday! If you have never seen them play, below is a sneak peek:
I am especially excited for the kids to experience the show during Black History Month based on the
colorful history
of the team. For instance…did you know that The Harlem Globetrotters started in the south side of Chicago, Illinois in the 1920s –
not
in Harlem? They were playing games a long time before the NBA teams allowed African-American players to join the league in the 1950s.
Harlem Globetrotters 2017 World Tour – Madison Square Garden
The Harlem Globetrotters will be performing three games here in NYC at the Madison Square Garden arena on February 19th and 20th. For the first time, they will have basketball's first 4-point line – 30 feet from the basket (6 feet, 3 inches beyond the top of the NBA's current 3-point line). It will be fun to see who can make those shots! After the games, the Globetrotters stay a while to mingle with their fans. A special 30-minute preshow is also available for "Magic Pass" holders. During that time, families can shoot the basketball, learn ball tricks, take photos and more with the Globetrotters.
Special Discount
You can save 25% on tickets for select seats and games by using code GLOBE1. Tickets can be purchased at the Harlem Globetrotters page on The Garden.com.
Related Article
–HOW THE HARLEM GLOBETROTTERS CHANGED THE WORLD (Newsweek)