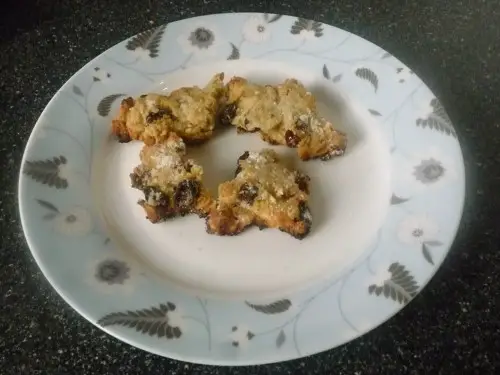 *Kimberly's note: Serena gave me a container of the cookies to sample. These crumbs were all that was left over! Kudos to Serena for getting my kids to gobble up cookies containing "cold-milled organic flax seeds"!
Tis' the season for good cheer, giving and a whole lot of eating. I love this time of year for the incredible selection of food and a bit of indulgence ranging from savory to sweet treats. Even though there is food everywhere, you can still stay relatively healthy over the holidays but loading up on vegetables with your dinner and enjoying one or two dessert items. One treat I love to enjoy is holiday cookies in all of their festive shapes. I recently made a batch of homemade oatmeal raisin sugar cookies with whole oats, flax seed, raisins and almond extract to satisfy my sweet tooth. Although it is still a cookie, it packed with fiber from the oats and raisins and it is very easy to modify by adding some chocolate chip, cranberries, or dates for your own version of a healthy holiday cookie. Enjoy!
(Healthier) Oatmeal Raisin Cookies
Ingredients:
3 cups of quick oatmeal
2 cups of unbleached all-purpose flour
½ cup of organic white sugar
½ cup of light brown sugar
1 cup of raisins
1 egg
1 stick of unsalted butter
1 tablespoon of sea salt
¼ cup of cold-milled organic flax seeds
1 tablespoon of cinnamon
1 tablespoon of nutmeg
1 tablespoon of almond extract
Cooking Instructions:
Let butter sit for 30 minutes before you begin the cookie prep. When the butter is soft, preheat the oven to 375 degrees.
In a medium mixing bowl, add the flour, oatmeal, white and brown sugars, salt, cinnamon and flax seeds. Blend the dry ingredients together with a wooden spoon.
Add the egg and butter to the dry mixture and blend them into the mixture along with the raisins.
Coat a cookie sheet or sheet of aluminum foil with some butter and roll the cookies with your hand. Use your favorite holiday cookie cutters to cut the cookies. Place them on the cookie sheet (not too close together) and let them cook for 10 minutes.
When the cookies are cooled, sprinkle them with some confectionary sugar.