Did you watch the Oscars last night? I rarely watch the Oscars because I don't usually have an opinion about who should win since I don't watch most of the nominated movies. I looked through the list of nominees for this year and the only ones that I watched were Coco, Logan, Beauty and the Beast, Star Wars: The Last Jedi, Guardians of the Galaxy Vol 2, and The Boss Baby.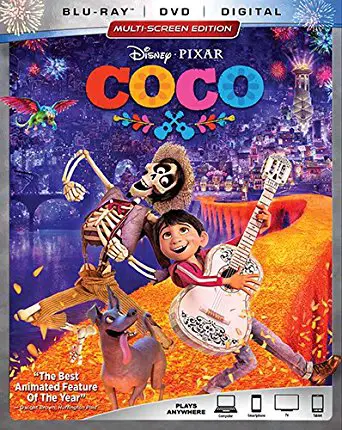 I was happy to see that Coco won the oscar for Best Animated Feature. I had been sent a media copy of the DVD which we watched on Sean's birthday. I didn't watch Coco in the movie theater because I thought it looked too much like The Book of Life which I had previously enjoyed watching with my family. Friends who watched Coco in the movie theater said that it was very different though. After watching Coco, I agree. While there are some similarities (both are centered on the Mexican tradition of Dia de la Muerte and demonstrate a love for the beautiful Mexican culture), the storylines are very different. If you haven't seen Coco yet, definitely give it a watch:
I love that the movie was about the importance of family. Relationships with family members – especially older generations – can be complicated at times. On the positive side, they feed, love and care for you. On the challenging side, they can sometimes be overly protective as they try to save you from experiencing the hardships of life. Ultimately, each family member has to follow his or her own heart and be his or her own person. In the end, those who truly love you will support your choices even if they differ from what they want for you.
My youngest son Sean joked, "Don't recommend this movie. It will make people cry." He is partially right. Coco will probably make you cry. I still recommend it though. Tears can be therapeutic. In this case, they can also be agreat reminder to hold loved ones in our hearts. That is one of the reasons that it was not a surprise that the sentimental "Remember Me" song from Coco won the Oscar for Best Original Song.
The movie and the song will probably make you cry. It doesn't matter if you are an adult or a kid.  If you have lost a loved one (to death) or are distant/estranged from loved ones, be sure to have tissues nearby while watching
Coco
.
After watching the movie, I thought about ways that I try to make sure that my kids remember loved ones who have passed away. My kids are pretty fortunate because they still have three of their grandparents alive. Unfortunately, my mother-in-law passed away after an extended battle with Alzheimer's a couple of years ago. She was an amazing woman (as you will see in my Never Forget post) so we try to keep her memory alive in several ways.
Ways to Pass on Memories
1. We look at old photo album pictures of Mrs. Coleman throughout the different stages of her life when we go over to Reggie's dad's house. (She was beautiful!)
2. We share our memories of her. For instance, when I make a lemon meringue pie,  Reggie often mentions how his mom made the best lemon meringue pies from scratch when he was a child.
3. We also share pictures and videos of times that they spent together with her.
4. Lastly, we try to continue special family traditions. Mrs. Coleman was very close to her siblings, so we try to make sure that the kids spend time with their local great-aunts. Mrs. Coleman also made the holidays (especially Thanksgiving and Christmas) special, so I try to continue that  too.
If you have other recommendation to help kids remember loved ones who have passed away, I would love to hear them.  It's so important that older generations are remembered!