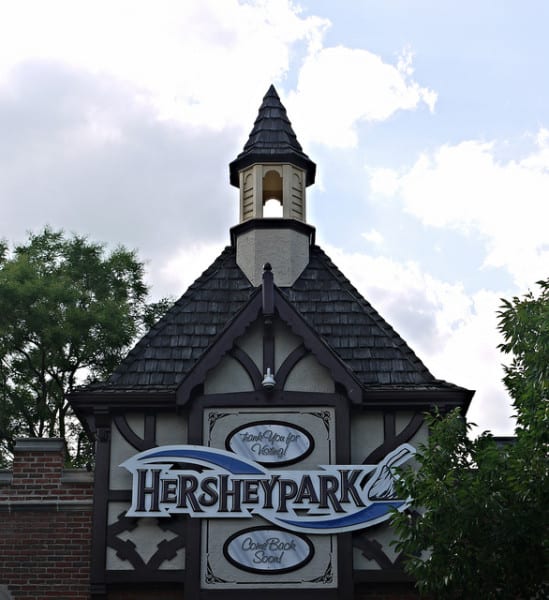 My family and a group of friends went to Hersheypark in Pennsylvania last Friday. It was our first time visiting the Park. Although we had plotted out our trip (the family rides, the food and a visit to ZooAmerica), the reality was a bit different. Below are 10 tips in case your family is planning on going to Hersheypark:
Hersheypark Tips
1. Download the Hersheypark mobile app to help you know where everything is located.
2. Consider visiting the Stadium. They have a summer concert series and Kelly Clarkson was performing the night that we went.
3. Go on the (free) Chocolate World tour. We went on the tour and it was very informative for both the kids and the adults. I didn't realize how many steps go into making chocolate. It makes me like chocolate even more. 🙂
4. For visitors 18+ with driver's licenses, there is a (free) test drive area where you can ride a variety of test car models.
5. Rita's Ice puts helados – the frozen sorbetlike pushcart treats that we enjoy in NYC – to shame. While I was disappointed that Rita's cherry ice was made with Splenda, the lemon ice was excellent. (I just don't like artificial sweeteners.)
6. If you really don't like waiting in long lines for rides, consider purchasing a Fast Track Pass.
7. Book a treatment at the spa. A portion of our group didn't even meet up with us because they were too busy enjoying themselves at the spa! Alas, I was with the family so I missed out on the pampering. Sniff.
8. Chickie's & Pete's is a great lunch spot on The Boardwalk. I ordered their crab fries and Philly cheese steak for myself.  Both portions were huge and tasty, so my one order was really enough to feed 2 people. (I shared with "my guys".)
9. Set apart some time to go to ZooAmerica, the zoo that is part of the Park. We were planning on going to the zoo but we ran out of time.
10. Plan a two-day trip to Hersheypark if you can. If we go back, that is what we will do. There is a lot to do there. We had a large group of friends and family members and we broke off to do a variety of things – family rides, roller coasters and the spa. There really is something for practically everyone. If we go back as a family, I would spend one day on the dry family rides and the second day on the water rides. (If I went back by myself or with girlfriends, I would go to a concert, the spa and on the "scary" roller coasters.)
**BONUS TIP** Amusement park admission is pricey. Type "hershey park discount code" into Google search in order to find current promotions. I found a $14 discount per regular (ages 9+) admission ticket for up to 8 tickets on retailmenot.com.
Hersheypark Photos
Since Sean is practicing his photography this summer, he shot several of these photos…
Get the flash player here: http://www.adobe.com/flashplayer
Hersheypark
100 Hersheypark Monorail
Hershey, PA 17033
(800) 437-7439