My 36th birthday was last Thursday. A few weeks before, my husband asked me what I wanted as a gift. I responded that I wanted to go to high tea (one of my favorite things). Being the wonderful husband that he is, he was fine with that. Then, he asked whom did I want to join me for the tea. (Last year, he had treated me and a girlfriend.) This year, I switched things up a bit though. I said that I wanted him to go with me. Let's just say that high tea is definitely not my husband's thing, but he consented. He was so great about it. He made our reservations and set up the childcare (with a preschool teacher friend of ours) so that I wouldn't have to think about the kids as we enjoyed our meal.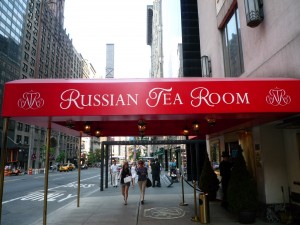 On Saturday, it was high tea day – and not just any high tea. He had arranged for us to go to high tea at The Russian Tea Room because it was one of the few places that I had not had high tea already. I didn't know quite what to expect because every high tea service is different. I wasn't sure if we would have to pick one of the sandwiches from the menu or if they would serve an assortment. (They served the assortment). I'm pretty adventurous so I didn't have a problem with anything except the caviar. My husband had to convince me to try it, because I just couldn't stand the way it looked (little black fish eggs – no thanks!). The truth is that it tasted perfectly fine. (I still couldn't eat the second caviar though.)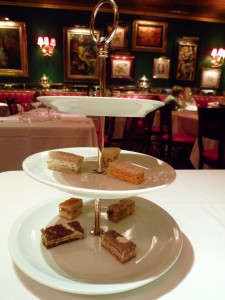 Sandwiches and Blinis:
Curried chicken salad with raisins and pecans;
Shrimp salad with rémoulade;
Smoked Scottish salmon with chive cream cheese and cucumber;
Artichoke with red pepper and a sun-dried tomato goat cheese;
Smoked ham and turkey with truffle croque monsieur;
N.Y smoked sturgeon with dill and sour cream;
Roquefort bleu cheese and pear with walnuts;
A tasting of two American caviars on Blinis
The next platter was much easier to enjoy. I'm used to having clotted cream with my scones, but they didn't have that. It was fine though, because the scones were delicious and served with butter and a greater assortment of jams (strawberry, apricot and black cherries) than any of the other teas that I had attended. Everything looked small, but it really was filling. Neither my husband nor I were able to finish our cupcakes and petit fours by the end of our date.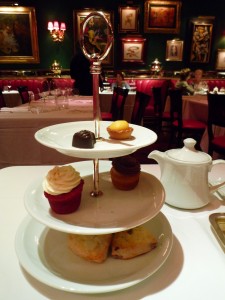 Assorted seasonal scones, cupcakes and petits fours
I like simple teas, so I ordered the Chamomile. My husband ordered the Indian black tea. Both of us enjoyed our drinks. My husband really liked the tea glasses. (I think that he just felt relieved that the Russian tea service wasn't as "feminine" as typical English teas.) The only other thing that I found different was that sweet and sour cherries (that you put in your tea) is a traditional part of the Russian tea experience. We tried them in our teas at the end. For me, it really didn't add to or take away from the flavor of my tea.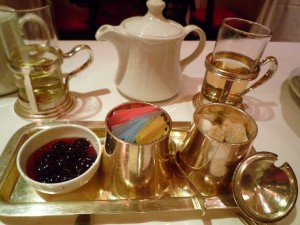 Loose Teas
All in all, it was a wonderful experience. It was fun to get dressed up and try something new with my husband. The best part was that we both enjoyed it. It was one of my best birthday gifts ever. Thirty-six is definitely starting off on a high note!