Congrats to the winner: Deborah
Spring is here, which means that simple easy-to-prepare meals are in order. (I actually cook simple easy-to-make meals year round!) While I am not a regular sausage eater, my husband loves Hillshire Farm's Polska Kielbasa. He would eat it every day for breakfast if he could. I eat it about once a week – either cooked on my grill or mixed with some pasta for lunch. On occasion, I will cook the kielbasa with peppers and onions and serve it over rice for a quick dinner. Lastly, I use the sausage when I'm out of chorizo while cooking Spanish styled chicken and rice dished.
Like I said, my sausage/kielbasa meals are simple (but good). If you want to get more of a variety of recipes, you can visit http://www.gomeat.com/recipes/. Below is an example of one of the site's recipes:
Baked Penne with Sausage
Total Cook Time: 55 minutes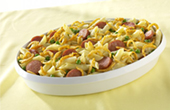 Ingredients
• 1 pkg. Hillshire Farm® Smoked Sausage
• 8 ounces (about 2½ cups) uncooked penne pasta
• 2 tablespoons butter or margarine
• 2 tablespoons all-purpose flour
• 2 cups milk
• 2 cups (8 ounces) shredded mozzarella cheese
• 1/3 cup grated Parmesan cheese
• 1 small jar (14 ounces) prepared pasta sauce
Directions:
1. Preheat oven to 350°F. Cut sausage into ½" slices; set aside. Cook pasta according to package directions, drain and keep warm.
2. Cook sausage in a large saucepan over medium-high heat, stirring occasionally, for 3-4 minutes or until lightly browned. Remove sausage from pan; keep warm.
3. Add butter to drippings in pan. When butter melts, add flour; cook and stir 1 minute. Add milk; bring to a boil, stirring constantly. Boil and stir 1 minute. Add sausage, pasta, and both cheeses; toss gently to combine.
4. Pour mixture into lightly greased 2-quart baking dish. Carefully spread sauce over pasta. Cover and bake 25-30 minutes or until edges are bubbling and center is hot.
The neat part is that in addition to sending me a few free coupons to sample Hillshire Farm Beef Smoked Sausage and/or Polska Kielbasa, the company is offering one lucky Mom in the City readers a year's supply of Hillshire Farm products. [A year's supply is 12 free coupons (one per month). That's more like a 3 month supply around here, but still….]
To win, please let me know your favorite Hillshire Farm recipe or product from their GO MEAT! Site http://www.gomeat.com/ in the "Comments" section below by April 30th. Good luck!