September 15 to October 15 is National Hispanic Heritage Month. It is a wonderful time to celebrate the history of American citizens whose ancestors came from Spain, Mexico, the Caribbean and Central and South America. You can read more about the facts and history of the observation at the National Hispanic Heritage Month site. You can also find a helpful Hispanic Heritage Month 2014 presentation on the Department of Defense Equal Opportunity Management Institute (DEOMI) site. In addition, I highly recommend the following five Hispanic Heritage Month children's activities:
1. Take a virtual family trip with the Smithsonian Virtual Hispanic Heritage Cultural Tour. Explore museum objects and enjoy the online activities as your family learns more about Latino History and culture from the comfort of your own home.

2. Visit El Museo del Barrio New York. (This museum was mentioned in our 33 Free or Pay What You Wish Museums for NYC Families post.)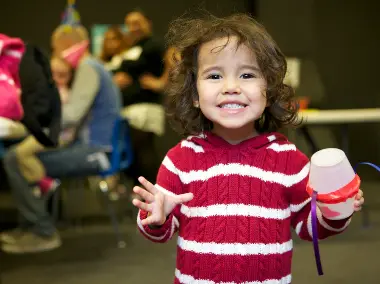 El Museo del Barrio New York
1230 Fifth Avenue (at 104th Street)
New York NY 10029
(212) 831-7272
While admission to the galleries that celebrate Latino culture is always by suggested donation, admission is free for everyone on the third Saturday of each month from 11am to 6pm for Super Sábado. On those Saturdays, free concerts, exhibits, gallery tours, art making workshops and other fun, educational events take place.
3. Use Scholastic's "Celebrate Hispanic Heritage Online Activity Teacher's Guide". It has lessons available for children in pre-K to 8th grade. It provides online activities, history lessons and more. As I always say, "We parents are our kids' first teachers!"

4. Explore Hispanic and Latino culture by viewing the special "LATINO AMERICANS", a six-hour documentary featuring interviews with almost 100 Latinos and 500+ years of Latino history. The documentary premieres on PBS September 17, 2013 at 8pm EST.
5. Attend an event at La Casa Azul Bookstore.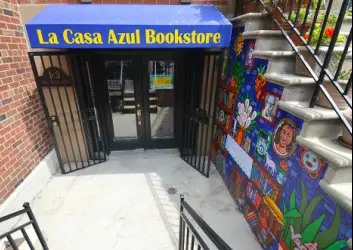 La Casa Azul Bookstore
143 East 103rd Street
New York, NY 10029
This new independent bookstore is an East Harlem gem. Founded by Aurora Anaya-Cerda, a former middle school English teacher, this store features cultural readings, book club, arts & crafts classes and more. Most importantly, it offers a wide variety of new and used books by Latino writers.

{Images courtesy of their respective sites; Updated; originally posted on 9/12/12}