Congrats to the winner: Junnie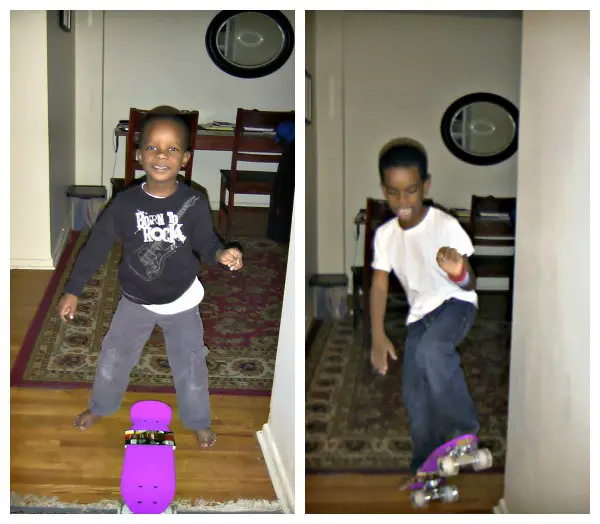 I attend various toy shows and such throughout the year in order to stay current regarding what is popular in toys and games. Honestly though, I get my best "research" for gift ideas for boys by observing my sons, their friends and the little boys in the children's ministry at my church. When I question whether or not "real" kids will appreciate an "expert" pick, I let the boys take the toy in question to the playground after school to observe what happens. (Kids know what they like best!) Anyway, below are my top 12 picks for gifts for boys this holiday season and at the end of the post, you will learn how you can win a cool new skateboard for a special boy in your life.
Ages 2+

1. Thomas & Friends: Preschool Steam 'n Speed R/C Thomas
Ages 3+

2. Bounce Bounce Tigger
I was introduced to this toy at the "Time to Play" holiday showcase….

Ages 4+

5. Teenage Mutant Ninga Turtles Action Figures
Ages 5 +

6. Hot Wheels Wall Tracks Power Tower Trackset
7. Transformers Fall of Cybertron figures
Ages 6+

8. Hexbug Warriors Battle Arena
9. LEGO Ninjago Epic Dragon Battle
**10. Nano Speed – Super Vert Crash Set
Micro cars are very popular right now. These particular ones are especially hot because not only are they small, but they are also very fast. Because they are so small, boys like to collect them. I took some nano cars (that I had received for editorial consideration) to the playground after school and the little boys gathered around like bees attracted to honey!
Ages 8+

11. Nerf N-Strike Elite Hail-Fire Blaster
**12. Shaun White Skateboards
I am excited to be giving away this skateboard that was sent to me for editorial consideration. My oldest son pleaded with me to let him keep it, but he just received a skateboard for a birthday present earlier this year. "But this is a REAL board," he argued. I wondered aloud if other boys would like the board because it was purple, but the boys assured me that they would. I guess that bright colors are "cool" in skateboarding. More than anything, I was surprised that the boys even knew about Shaun White. (I admit that I had to do a google search on him, because I'm not a big skateboarding follower!)

In any event, one lucky reader will win this skateboard. To enter to win, newsletter subscribers simply need to let me know which of these toy picks for boys is your favorite in the "Comments" section below by 12/1. A winner will be picked on 12/1 at noon.

**I received review copies of these items for editorial consideration.
{Post images courtesy of my Amazon affiliate partner}