If you don't know Meredith Sinclair (Hoo-dee-Hoo), you are missing out. She is a wonderful mom blogger whom I met in NYC last year. She is one of those women who are beautiful…both inside and out. That is why I was so happy that she agreed to go to a Beverly Hills press junket for the HOP Movie, the family-friendly movie that opens in theaters this Friday (April 1st). Read below to see what Meredith thought about the film…
"If you're looking for a film that will appeal to both your wiggly pre-schooler and your too-cool-for-school tween then hold on to your Easter bonnets people…it's hoppin' your way this Friday. The new CG animated movie HOP arrives in theatres on April 1st, just in time for spring.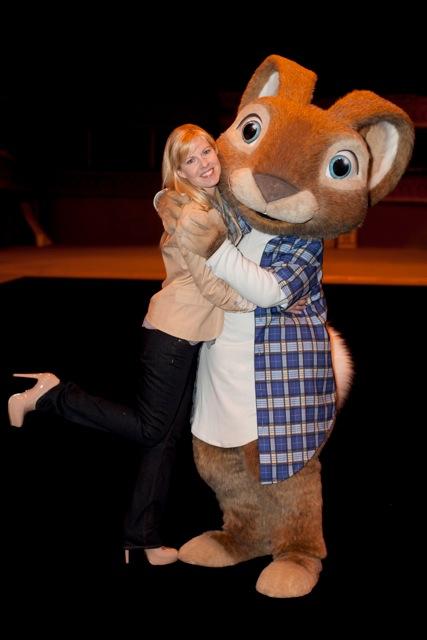 The lovely Meredith and E.B. (Photos Courtesy of Chris and Kristen Photography)
I traveled to L.A. last weekend for the HOP press junket and it was truly a treat from start to finish. I arrived Friday afternoon and after checking in at the beautiful Four Seasons Beverly Hills (where one can't help but feel all young Hollywood), I was shuttled to the press preview of the film. Sitting in a row full of parenting bloggers in a Beverly Hills movie theatre, hugging my ginormous popcorn was a wee bit of bliss. At that point it wouldn't have mattered if the film were good or not. To make matters better though…the film actually "rocked".
HOP at it's core is a film about finding one's true passion – that thing that makes your heart sing and then running full speed at it even when all odds are against you. What makes this message fun and entertaining is that it's coated with a cheeky comedic candy shell, dunked in a layer of brilliant CG animated goodness and wrapped up with ribbons of rockin' tunes that had the audience drumming along.
HOP is the story of a teenaged bunny named E.B., who will soon be handed down the duty of being the Easter Bunny. He respects the job but absolutely doesn't want it. Instead, he wants to be a famous rock drummer. So, on the eve of his coronation, E.B. runs away to Hollywood where he bumps into Fred O'Hare, a 30-year-old guy who has no direction in life and can't seem to keep a job. HOP is the story of how these two unlikely friends help each other find their life's true calling and become forever bonded along the way.
With the wildly witty Russell Brand as E.B. and James Marsden's endearing performance as Fred, HOP has humor and heart all in one. And don't worry…it has layers of humor so moms and dads will find it funny too.
I have to say that I am usually wary of movies that try and pair animated characters with real-live actors. These flicks can often feel disjointed and forced. But in the case of HOP and the brilliance of its creator (the same company that also made Despicable Me), the intersection of LIVE and animated feels fluid and oddly believable.
If you're in need of a light-hearted and downright fun film with a sugary yet meaningful after-taste, then I highly recommend this film. (I dare you not to tap your feet along to the super fun score…)
Come back on Friday when I'll tell you all about the Hollywood press junket we attended on Saturday, our personal interviews with the stars of HOP and the filmmakers, as well as the crazy thing Russell Brand did to me when we were finished."
I (Kimberly) can't wait to hear what Russell Brand did myself. He's a little crazy and Meredith is really pretty, so I have some ideas. (Or maybe not. Didn't he just get married?)
Disclosure: Universal covered the travel and lodging costs for Meredith to attend the press junket in Los Angeles. She was under no obligation to write a review for the film. (In fact, I let her know that if she didn't like it, that she could skip the film review and just write about the rest of the junket. She just so happened to enjoy it!)
(Post Image Courtesy of Universal.)