This past weekend, my husband and I attended a parenting seminar. The first section was focused more on overseeing youth and family groups. (My husband and I work with the Children's Ministry in our church.) That was pretty fun and informative. No sweat.
THEN, we attended the second section which specifically talked about parenting newborns to kindergarten aged kids. Personally, I love to learn from people who are going through AND those who have already been through the certain stage of life that I am going through. That is why I liked this class – it had both types of teachers. Overall, I felt good about how my husband and I are raising our kids. We are not perfect (by any means!) but we are doing our best and our boys are thriving, happy kids.
One area was discussed that I want to (and will!) get better about…the television. One of the teachers from the parenting class threw out a friendly challenge…to put the television away for a week to see what happens/how beneficial that time could be for the family. I knew that I was not going to do that any time soon (maybe in the summer). However, I did make a mental note to check the recommended daily allowance for television and to stick to that. On the way home, I checked one of my favorite parenting resources, kidshealth.org. The answer:
The American Academy of Pediatrics (AAP) recommends that kids under age 2 have no screen time, and that kids older than 2 watch no more than 1 to 2 hours a day of quality programming.
Since I'm pretty sure that 1 -2 hours a day, for my kids includes everything — TV, interactive video games, and the Internet, I knew that I had some work to do.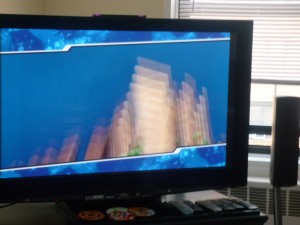 Honestly, it is easier with Michael. He is at school most of the day and we spend time together as a family in the evening and on the weekends we are often out and about. It is more challenging with Sean, because he is with me all day. I don't normally use the television as a babysitter, but there are definitely times when I will pop in a movie when I need some uninterrupted work time. That would be fine if I didn't have to include Michael's screen time in with Sean's. (Even though it's not "Sean's show", he will usually watch what Michael is watching.) Argh.
Initially, my family was not happy with with my new revised "2 hours or less" screen time a day plan. Their reactions:
My husband: "I KNEW that you were going to do this as soon as they mentioned television woman!" (He knows me so well. I don't go places to learn without taking SOMETHING back to apply practically.) "That doesn't include me and my weekend sports games, does it?"
Michael: (At the end of each night, I ask him what was his favorite and not favorite part of the day.) "My not favorite part was you going to learn how to be a good parent. I want my tv!" I couldn't stop myself from laughing because he said it with a smirk and a smile.
Sean: (I told him that we wouldn't be turning the tv on so much because the tv needed to get "more rest".) "Which tv needs rest? Yours and Daddy's or the one in the room?" As he continued to speak, I realized that he was hoping that he could see "tv" on the main television the linving room that has cable on it AND watch his favorite DVDs on the television in my bedroom that doesn't have cable on it. Smart kid, but uh…no.
It has only been a couple of days since instituting this new policy. I don't know what "my guys" were bothered about. I'm the one who has to micro-schedule my day so that I can get work/blogging/etc. done during the day in 2 1/2 hours or less. (If Sean takes a nap that gives me a total of 2 1/2 hours. That nap is my new best friend!) I'm not complaining though. I am very grateful for this time that I get to spend with Sean. When I think of the fact that he will be in full day school in a few years, I want to hold these moments as tightly as possible.
In any event, we'll see how the new screen time guidelines go. Enough about me…how much screen time are your kids getting a day? Do you think that the AAP guidelines are reasonable?