I decided to do a weekly "Fix My Site" series to help answer some of the most commonly asked questions that I receive as a website and blog developer for bloggers and small business owners.  I will start with one of the easiest things – how to easily make a custom WordPress favicon.
What is a favicon?
A favicon is simply the icon that viewers see displayed beside your site's URL when it is typed into the address bar of various Internet browsers. Favicons also show up next to your site's name when it is in a bookmark list.
Why should you change the favicon?
While you don't have to change your favicon, it just tends to make your site look more polished. When your favicon complements the look and feel of your site, it shows an attention to detail.
How do you change the favicon?
It's super-easy to change your favicon if you are using WordPress.org. You can do it in 3 quick steps. I will use my genesisforbloggers.com test site as an example. (I am using the default Twenty Fifteen WordPress.org theme using WordPress version 4.4.1.)
1. In the WordPress dashboard, go to "Appearance" and "Customize".
2. Click on "Site Identity".
3. Upload a square image that is at least 512px wide and long. (Click "Select Image".  Select a file – either from your current WordPress media library or upload a new image.)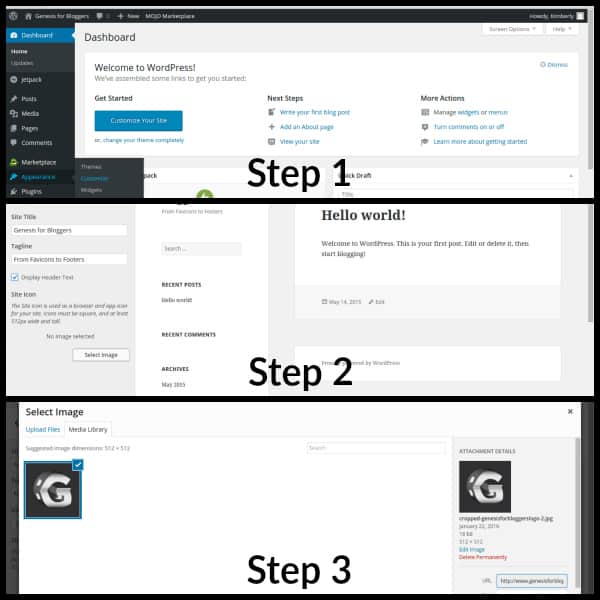 That's it. Your site now has a favicon. (Just remember to hit "Save & Publish" before you leave the Customize section!) You can use free services like canva.com or picmonkey.com to make the image for your custom favicon. I used a Mymo combining the G and B of "Genesis for Bloggers"as the image for my site.
That's it for this week. If you run into any challenges when it comes to changing your favicon, please let me know.
If you have a question that you would like for me to answer in a future post, please send it to [email protected] with "Fix My Site" in the subject area of the email. Thanks!