Or at least I can tell you how I got there. I took the "R" train to Steinway Street; walked West on 34th Avenue and made a left on 36th Street. After arriving on Sesame Street, I spent the next couple of hours surrounded by amazing, passionate people who love their jobs – parenting media and Sesame Street staff.
It was so fun to see some of my favorite bloggers – Amy, Carol, Esti, Jen, Vera – along with meeting wonderful new parenting bloggers and writers (i.e. mommyblogger76, Tod Abrams, Melanie Notkin, Brett Singer and About Parenting). Here's a photo of most (if not all) of the parenting media that was able to stroll down Sesame Street together: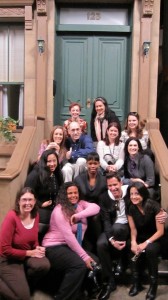 We had a lot of fun on the set. It was hard to be quiet (they were rehearsing) because we were like a bunch of school kids – laughing and posing with props. Abby Cadabby stayed with us most of the day. Her puppeteer Lesley was so sweet. I was happy to hear that she liked the Olivia the Pig books, because my sons are in love with Olivia at the moment. I totally won cool points with my boys when I showed them the following (very short) clip:

The thing that stood out the most was how much everyone seemed to genuinely love their jobs. Michelle, a pregnant "muppet wrangler" gave us some insight on the care of muppets. My biggest takeaway: "Never brush a monster". It's amazing that most of the muppets last 8 to 10 years. Obviously, they don't let kids handle them! Some of the puppets have lasted much longer. For example, they have used the same Oscar puppet for forty years. They just keep putting new foam into it. (On a side note, did you know that Oscar was originally orange?!) It was really refreshing to see people enjoying their jobs. They were laughing between rehearsals. It just seemed like a fun place to work.
Anyway, after touring the set, we had lunch with some of the Sesame street team. They basically shared with us the ways in which Sesame Street is trying to make a place in this "new digital world" in honor of their 40th anniversary next month. If you haven't already done so, consider visiting sesamestreet.org. It has a lot of great videos, activities and such for kids and parents. You can also see sneak previews for Season 40. The four things that stood out to me the most:

1. The "My Street" function: It allows your kids to save their favorites so that they can easily access them in the future.
2. The "PlaySafe" feature: It allows parents to lock out keyboard functions which don't have anything to do with the games that the kids are playing.
3. The "Parents" Section: It has a variety of educational media to help parents with their kids (i.e. for picky eaters, potty training; dealing with tough economic timesheet.)
And

4. Lastly, I like the sesame family robinson blog on the site. It is written by Marty Robinson and Annie Evans who I dubbed "Mr. and Mrs. Sesame Street". They literally got married on Sesame Street's 123 steps. Oscar the Grouch gave Annie away. They write about raising their twin daughters while working on Sesame Street. They are so creative that it is mind-blowing.
When I left, I received a yellow feather. I am SO bummed that it fell out of my purse on the way home. At least I have the following memento of my time on Sesame Street…


I have so many great Sesame Street episode memories. What is yours?