11/3 Update: Actor/Producer Mark Wahlberg announced that starting today, Xbox will be donating Kinect consoles and games to thousands of Boys & Girls Clubs nationwide!
If you have read this blog for a while, you know that my family has loved Kinect since it was the secret "Project Natal". You can read the history on these posts. The wait is almost over and Kinect will be on sale this Thursday. I was excited when Kinect asked me to host an online Kinect launch party on Wednesday, November 3rd, from 6:30pm – 8pm. I was even happier when I learned that my super smart tech friend Heidi would be joining in on the fun. Of course all of you are invited too!
Kinect is already hosting a public all-day event in NYC's Times Square on Wednesday to celebrate the launch. There will be Kinect experiences on the street and at the midnight opening of Toys R Us, there will be great giveaways and exclusive access to an after-party for those who are first in line. (I will be there for part of the day with Sean.) You can learn more about the New York event and RSVP on this link.
Even if you are not in NYC, you can join in the fun at my online party on Wednesday night. Since I can't serve food online, I'm happy that I will be able to serve up some really great prizes to three special party attendees. Take a peek:
From 6:30pm – 7pm we will be talking about the Kinect being available and I will share my ideal play party. If you're active in the party during that time, you will be entered to win…
Prize #1 Ultimate Play Party Pack Prize
-Kinect sensor + "Kinect Adventures" game
-I also received a $100 gift certificate to design my ultimate play party pack for you. Since Kinect Adventures is an "off the couch" action game, I am putting $75 of it towards a gift card to your local grocery store so that you can purchase food and drink to keep your family and friends energized. The other $25 will be a gift card to a local party supply store so that you can get all of the purple and green streamers, balloons and paper goods that your heart desires. Enjoy!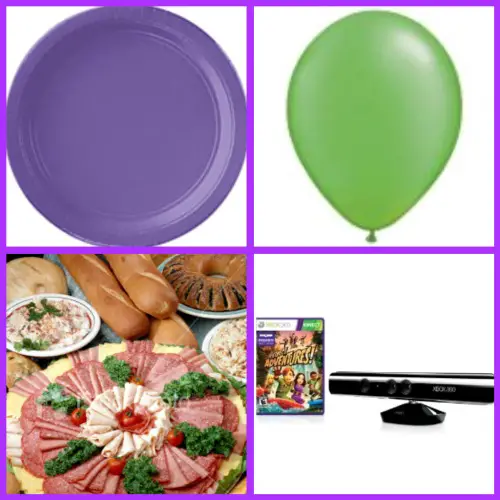 Best of all, there will be a special charitable element. From 7pm – 7:30pm, we will be talking about the charity and Kinect's involvement. If you're involved in the party during that segment, you will be entered to win…
Prize #2 Charitable Donation Prize
-$100 to the Boys & Girls Cubs of America branch that you choose.
Lastly, we will be talking about our favorite Kinect-related things from 7:30pm – 8pm. I know that I already have some favorites. For those who stay with the party until the end, you will be entered to win the final prize…
Prize #3 THE Kinect Prize Pack
-4GB Kinect bundle (this includes a Xbox 360!)
-"Dance Central" game
-"Kinect Sports" game


Since I won't be serving any food, as I mentioned before, there is no need to RSVP. Simply jump on twitter from 6:30pm – 8pm on Wednesday, November 3rd. Be sure that you are following me (@mominthecity); Heidi (@c2cmom) – who will be picking the winners; and @xbox – our generous sponsor. Also, be sure to include the hashtag #KinectParty at the end of your tweets so that we will know that you are participating in our party. I look forward to "seeing" you there!
*Please note that in accordance with my Giveaway Policies, "giveaways are (only) open to US residents ages 18 and older."*