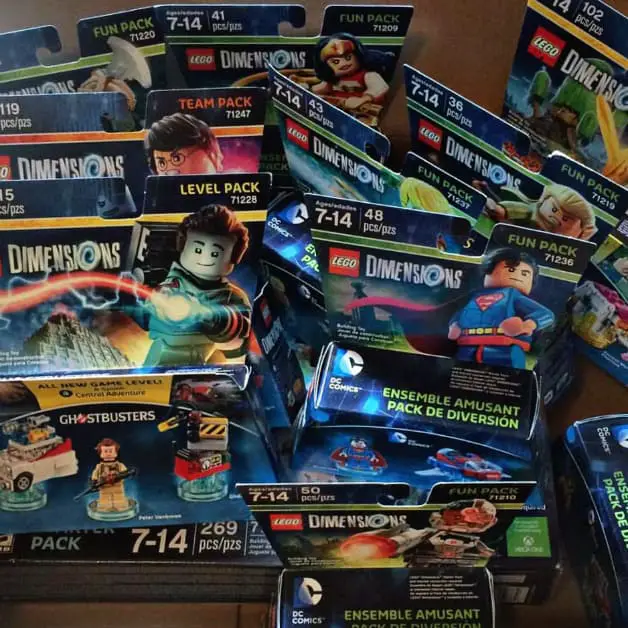 I am pretty certain that you have already heard about LEGO Dimensions, the LEGO toy and videogame hybrid from Warner Bros Interactive Entertainment. Well, Warner Bros. made both Michael and Sean extremely happy a couple of weeks ago when they sent over a special package. It was filled with the starter pack and many other game packs with the LEGO Dimensions new characters for the boys to test out for free. Since LEGO Dimensions was on Sean's holiday wish list, it was like Christmas in September! The box just so happened to arrive on one of the (several) days off from school that NYC students enjoy during the month of October so I let the kids play the game for several hours.
The kids had fun building the various characters and accessories with LEGO parts. Combining that with virtual gameplay kept them happy for hours. At the end of the day, Michael, my pragmatic son, wisely mentioned, "What I like about this game is that you keep the same game pad. You just add new LEGO packs." That does make this game more budget-friendly than some of its competitors. Meanwhile, Sean simply exclaimed, "I love this game!" (They both just have to work on their patience as the various levels take time to download!) You can take a peek at the LEGO Dimensions game and some of its various packs below…
(Starter Pack with Batman, Wyldstyle, Gandalf, and Batmobile)
(Ghostbusters- Peter Venkman, Ecto-1 and Ghost Trap)
(Harry Potter, Lord Voldemort, Enchanted Car, and Hogwarts Express)
(Finn the Human, Jakemobile, Ancient War Elephant, and A Book and a Bad Guy) 
Superman and Krypton Escape Jet

Wonder Woman and Invisible Jet

(All of the DC Comics figures that were mentioned above)
(The Lord of the Rings figures that were mentioned above)
(Gollum and She lob the Great were not available)

In any event, LEGO Dimensions is a game that kids love. There are several new expansions (battle arenas, worlds, waves of story packs, etc.) planned. The fact that we can use the same toy pad and won't have to get a new starter pack for each set of LEGO Dimensions new characters is something that we parents can especially get excited about too!