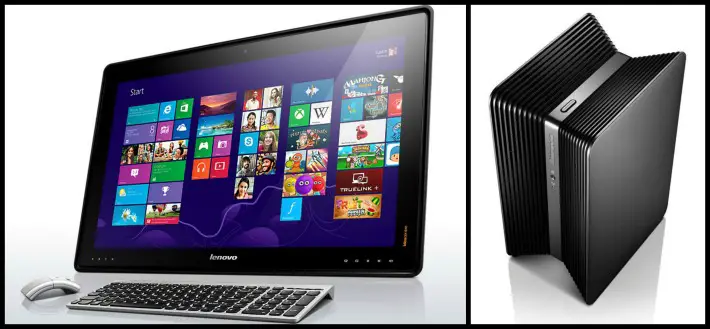 As I mentioned in the 4 CES Headphone Trends post, I attended the Consumer Electronics Show (CES) in Las Vegas last week. As one of the Lenovo Moms, my trip was sponsored by Lenovo. I'm really happy that I went with some women that I already know, because the show was HUGE. It would not have been as fun if Serena (a fellow Lenovo Mom) wasn't my roommate and floor show partner. We also shared other memorable moments – i.e. having a hard time crossing Las Vegas streets; sharing sore leg muscles due to walking in "cute shoes" because the taxi line was 1 hour and such!
Anyway, I was able to attend a lunch and product demonstration of some featured Lenovo products. It was interesting to see the different things that stood out to the various Lenovo Moms. Below are the two items that especially caught my interest…

1. IdeaCentre Horizon Multimode Table PC
Horizon, the 27" all-in-one desktop table PC, was my favorite product. While it comes with Windows 8, I'm most excited about the Aura interface component that is added. That is what makes it a great way for the family to connect (much like the Lenovo Flex 20). One of Lenovo's goals with this product is family interaction/connection. I think that they hit the mark with the 35 games (i.e. air hockey); educational partnerships (including one with Crayola) and photo apps that can be done together or simultaneously by various family members.
With a capacity of up to 10-finger touch, many families can all do different things at same time. I also like that the kids won't be on the computer all day, because it has three hours of battery life – enough time to watch a movie or play together as a family and still send the kids to bed at a decent hour. Starting at $1399, the Horizon is a reasonably priced opportunity for families to connect in both an educational and fun way. See…
2. The Lenovo Beacon Home Cloud Center
Tech-lovers will have to wait until April to get this new personal cloud storage device, but it should be worth the wait. It replaces the home servers of the past that you either used Wi-Fi or plugged into your home Ethernet to use at home. While it will still keep all of your files, photographs and such, the Beacon will also serve as your personal cloud. It can easily sync up a variety of things including phones and computers. For example: if your phone is synced to the server, you won't lose any photos and such if the phone dies. (You get to choose how often synced items are sent to the server.) In addition, you can use the Beacon to back up your home computers automatically as well as to stream videos, music and more. The Beacon will start off at $199, but stores will bundle it with various hard drive storage capacities. That will raise the price. On the decorating front, I like that there are different colors for the device covers, so you will be able to buy different color panels to fit in with your home décor. Basically, the Beacon does everything that old home servers did…and more.
On a related Lenovo note, I was happy to see that the Lenovo Flex 20 was one of the overall CES "Innovations Honorees". My family loves the Flex 20 that Lenovo sent to us. I'm working on a video that shows Michael's surprise at receiving it for Christmas and how it has become his new best gaming "friend". (I will update this post to include the video when it is finished.) Meanwhile, if you have any questions about these Lenovo products, definitely let me know. Thanks!
1/23 Update: Here's the video:

If you enjoyed this post, don't miss future ones! Please be sure to sign up for my biweekly email updates. (If you like getting updates as they post, you can follow me on Facebook or Twitter.) Thanks!