This past weekend was a fun blur. On Saturday, the family went to see When Elmo Grows Up at Madison Square Garden. My husband's aunt treated our family along with my brother-in-law's family as a special early birthday gift for Sean. The little kids especially enjoyed the show. Sean kept saying, "He wants to do too many things!" because Elmo kept changing his mind regarding what he wanted to be when he grows up.
On Sunday after church, we had about 20 people over for a Super Bowl Party. It was so much fun. Everyone (except for the 3 Colt fans) went home happy. The party was really for my husband, because I'm not a big football fan. I did like the whole "Who Dat?", the commercials and the food. We had the standard guy football menu: pizza, wings, chili and sides. A chef/friend of ours made some amazing hot wings. I made a huge pot of chili that disappeared. (I finally figured out how to make it "mild" enough for the masses. In the past, guests have complained that my mild was too spicy!) Next week, I will be taking a break during President Week's school vacation. I'll schedule the recipes to run then.
So what does that have to do with the post title? Nothing much. I just wanted to share about my fun, full weekend which led up to Monday…when I received my $2500 DonorsChoose.org gift card that I told you all about on this post (yay!). I promptly funded my first project, "Little Listeners". This is a description of the project: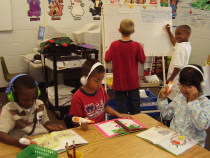 "I teach 5 year-old kindergarten in rural South Carolina. We are a Title One school with 93% of kindergarten students receiving free/reduced lunch. Our school was featured on South Carolina's ETV's "Corridor of Shame." All of our funds for this school year have been frozen.
My students love to go to the listening center, but we only have four headsets. Adding another four will double their opportunity to listen to great literature. We also need to build our listening library.
The listening center helps students by building their vocabulary skills. The listening center also increases comprehension skills and fluency. The students will enjoy listening to the stories with silly voices and extra sound effects to help bring the story to life.
Expanding our listening center is very important to helping my kindergarten students be on level and excel in their reading. With your help, you will make a difference in their lives!
My students need 5 CD read-alongs and 4 wireless headphones.
I was so happy to see the "Completed" badge next to the project after it was funded.
Since I give on behalf of Mom in the City (which you make possible!), here's (our) "thank you":

Dear Mom in the City,
Thank you so much for funding my project – Little Listeners. I agree that learning to enjoy great literature and learning to read are very important.
Unfortunately, many of my students are never read to at home. I try to provide as many opportunities as possible during the school day for them to be read to (by my assistant or myself.). As soon as I finish reading a book, the children ask me to read it again.
The listening center is one of the most popular in our classroom. Having four more headphones will double the number of students who will get to listen each day. The book sets will add variety to our collection.
Thank you again for supporting my students and my classroom.
With gratitude,
Mrs. C.

I have decided to use some of the remaining gift card balance to fund the projects that receive the most requests for the next four months. So…if you know of a school that has an "Urgent" project request for Grades PreK-2, please leave the link to the DonorsChoose.org project in the "Comments" section below up until 3/15 in order to win the March prize (up to a maximum value of $500 will be donated towards each project). Good luck!