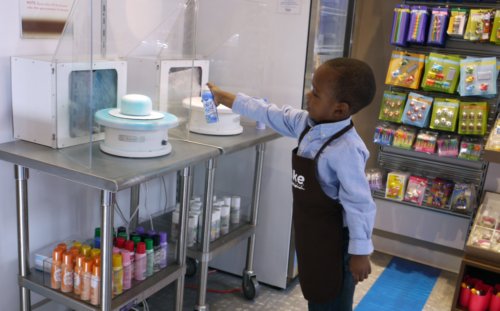 During school break a couple of weeks ago, I took the boys to review Make Meaning on the Upper East Side of Manhattan. I should have know that the experience was going to be great, because people were already lined up at the door waiting for daily opening of the store. When we entered, the boys were presented with a variety of options. I thought that they would pick painting ceramics. (Making soap, jewelry, paper, candles or glass were other options.) Instead, they both chose to decorate cakes. I guess that cake was still on their minds since our visit was the day after Sean's birthday…
A picture is sometimes worth a thousand words, so below is a recap (in pictures) of all that they saw and experienced at Make Meaning:
In any event, if you are going to be near one of the Make Meaning locations, definitely include a visit in your plans. (They also offer special classes, parties and even creative options for adults.) Your kids will thank you…mine did.