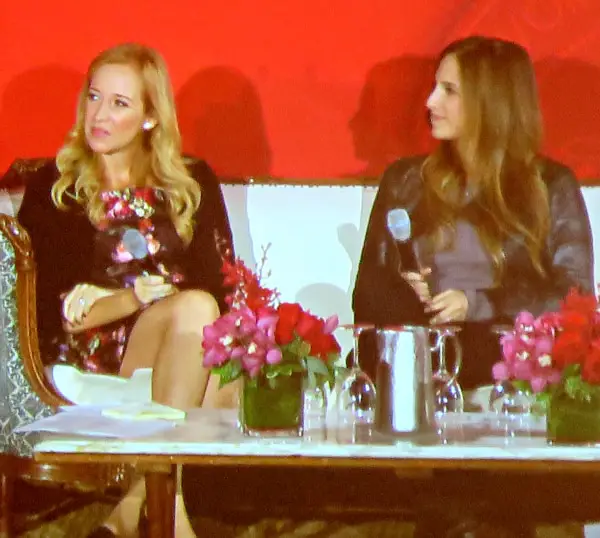 Melissa Ben-Ishay, founder of Baked By Melissa was the second woman whom Angela Jia Kim interviewed at Rock the World 2015. There are 13 Baked By Melissa stores in the NYC metro area (within the last 6 years) and a new, gluten-free store opening in November. Don't worry if you don't live in the NYC area because they they ship cupcakes (including the upcoming gluten-free ones) nationwide. By telling her story, Melissa focused on one main point…Nothing is what it seems. Expect the unexpected. 
Melissa prepares herself that things will not go as planned so that it doesn't get the best of her when they don't. The story of how she launched Baked By Melissa helped me to understand her perspective a little better and to see that there was actually a lot of positivity in her "expect the unexpected" mindset.
Before starting the business, Melissa was unexpectedly fired from her advertising assistant media planner job…after thinking that she was going to get a promotion. (Ouch!) This served as a great business lesson for her though because she vowed that she would never fire anyone unexpectedly without letting them know that they aren't doing a good job.
After being fired, Melissa went crying to her entrepreneurial brother at the interactive agency office that he had just started. They had always wanted to start a business together, so he told her to go home and bake some cupcakes. Since Melissa loved to bake cupcakes, they would start a business together. Melissa went home and baked 250 muffin-sized cupcakes – of which there were 4 different types. She sent them to work the next day with her housemate who happened to be interning at Alison Brod PR at the time. Alison enjoyed the cupcakes so much that she put Melissa in touch with her caterer Ben.  The day after she was fired, Ben called Melissa and invited her to his home for a cupcake tasting.
Melissa and her brother named the company, made the logo (the same tie-dyed cupcake one that they have today) and glued the logo to bakery boxes before the tasting to look legitimate. For the initial tasting, Melissa baked mini cupcakes. It was actually Ben who suggested figuring out how to make the cupcakes as bites since that was the preference of his catering clients.
The bite size aspect was the genius idea but Melissa still had to figure out how to bake the bite sized cupcakes. She did. She immediately found a baking supply store and came up with a temporary solution for preparing the cupcake bites.  Once that was done, she started doing events with the caterer right away.  At the same time, she started a website which she used to process local orders. She baked, boxed and delivered PayPal cupcake orders from her website while also doing events with the caterer.
When Melissa worked the catering events, she put her business cards in front of her cupcake display. She felt like a fraud because she had her name, cell phone number and home address (her parents were not happy) on the cards like she was a bigger business. She would also cold-call other catering companies to set up tastings.
Melissa then worked the holiday market in Union Square, Bryant Park and Columbus Circle during her first year in business. Melissa noted that her team was important. She baked. Her brother took care of the packaging and the caterer Ben (along with several other people) all pitched in.  Later, she moved into a bigger, industrial kitchen that was part of a cafe in SoHo. David Z., a popular shoe store owner, actually introduced her to her future husband there. How sweet!)
There were many unexpected happenings throughout Melissa's business story. However, many of those things turned out be positive because Melissa took those unexpected opportunities, worked hard and ran with them. That success secret is definitely worth imitating.