I attended a Ming Wang and Dress For Success event tonight. I was invited to mingle with Dress for Success clients and to help them pick a three piece outfit courtesy of Ming Wang. I reverted back to my high school fashion merchandising class interests…I think that I had more fun than the women who actually received the clothing!
I had a little time to speak with Steven Wang before the event began. (He now heads the company that was started by his parents.) I love the concept of a clothing line partnering with a non-profit that provides work clothes to economically disadvantaged women. I wanted to know what motivated the Wang family to form this partnership. In a word (not his but mines)…generosity. It turns out that Dress for Success is not the first charity that the Wangs have partnered with…it is just the most well known. They worked with Attitudes & Attire, a Dallas charity that is similar to Dress for Success. They have also provided scholarships for orphans and children from single family homes over the years. Ultimately though, they are working with Dress for Success because they make clothes and Dress for Success clients need clothes. Steven noted that there are a lot of great "just" causes, but it makes the most sense/their charitable dollars go farther with this partnership. I agree. This is an excellent way for clothing manufacturers to make an amazing impact. It would be wonderful if more clothing companies followed suit!
I was so impressed by the company's ethics that I wanted to know more about the company overall. Ming Wang is geared more towards my mom than me. The line, which is primarily knitwear, appeals to professional women who are 50+ although younger plus-sized women buy their larger sizes. Their prices range from $90 (shells) to $100 (bottoms) to $200-$250 (jackets). The garments are considered investment pieces because they are 100% machine washable, yet they don't fade. The idea is to add a couple of pieces to the basics each season…which makes economical sense. Two other great things about the knits are that they are wrinkle resistant and have some "give" for when when weight fluctuates. (Steven was so funny – he made sure to say that "guys or girls" weight fluctuate.) All in all, it's a solid line for the 50+ professional woman. Nordstrom, Dillards and Von Maur (big in Midwest) carry the line in case you're looking for it.
After talking about the company's background, it was time for the fun to start…shopping! The first woman that I helped (Sandra Smily) lived up to her name…she had a contagious smile. Since each woman was receiving three pieces, I encouraged her to pick out one bright piece that she loved and to get the other two pieces in simple black styles (a shell and a skirt or pair of pants). That way, if she needed to wear the black pieces more than once, no one would be thinking "Oh, she had that on yesterday." (When I was at Columbia, one of my best friends/roommates had a pair of classic black trousers that she wore almost daily like a uniform. You would have never known though, because she mixed up her tops and accessories.) I used the same approach with Vania Wynter the second woman that I helped (who happened to be an old friend!).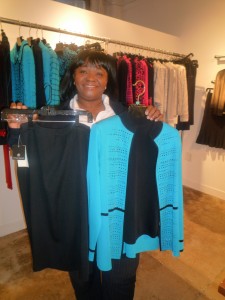 Sandra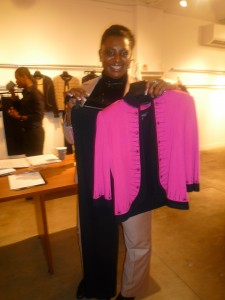 Vania
(There was one other women that I was able to "play dress-up with" also. She didn't like knit pants or skirts, so she was able to get three tops.)
Picking out the clothes and watching the women get their makeup done was great, but it was the conversations with the Dress for Success clients that "made" my night. I overheard tidbits like…
–This is the first time that I have gone shopping for myself in a long time!
And
–Dress for Success has been such a blessing to me. They gave me tips on where to look to find a job. They gave me clothes for my interviews and once I got a job, they let me come back for more clothes. It's an ongoing relationship.
The Dress for Success clients were so inspiring. One in particular shared how she she worked to send her three kids through college after leaving an abusive husband. I admired her strength. Overall, I was reminded that I'm so fortunate to have my life. No…I'm not shopping at Bergdorfs or Saks on a regular (or irregular for that matter!) basis, but my life is just fine. Seeing other women's grace under true life pressure reminded me of that truth.