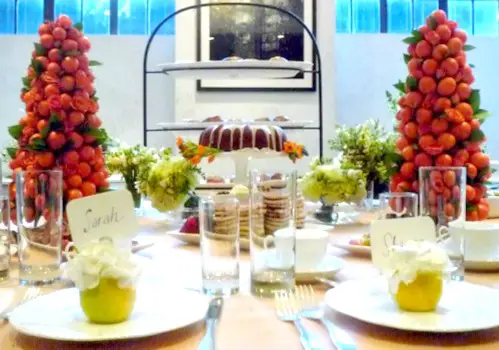 While attending the Sauza/Cathy Riva event, there were so many special little touches in the Mother's Day brunch decorations that really sparked conversations. Below are some of my favorite unexpected touches:
1. Place cards: When hosting a large brunch with a mixture of family and friends, place cards are especially helpful. The hostess won't have to make all of the introductions. By putting the place cards on or near plates, they help to spark conversations and put names to faces. I especially liked that fruit were used to anchor the place cards. Lemon, lime, tomatoes, pears and apples are just some of the possible fruit that can be used. You simply place the card holders in the fruit. (In a pinch, you can wrap heavy gauge floral wire around a marker with a pair of pliers and crimp it at the end to make your own place card holders. That's what Cathy did for the event since the card holders that she ordered didn't arrive in time!)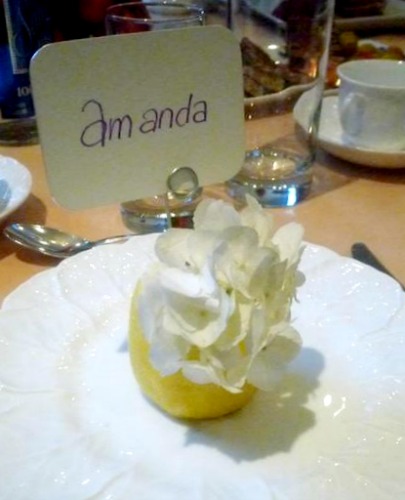 On another name card note, I must say that the name badge that I received at this event was presented in a unique way. The cards were stuck into cupcakes and macaroons. Dessert first…what a simple yet fun idea!
2. Centerpieces: Fruit and flowers were combined to make an interesting (and edible) centerpiece. Cathy is kind enough to share the instructions for how to make the centerpiece topiary on her blog's her Bridal Shower, Mother's Day and Wedding Decor Ideas post. (Note to NYC dwellers: The 28th Street flower market area is a great place to purchase flowers.)
On the subject of flowers, there were several beautiful floral displays sprinkled throughout the room. I took several photos so that you could get inspired by the décor too…
{Updated/Originally posted on May 5, 2011}