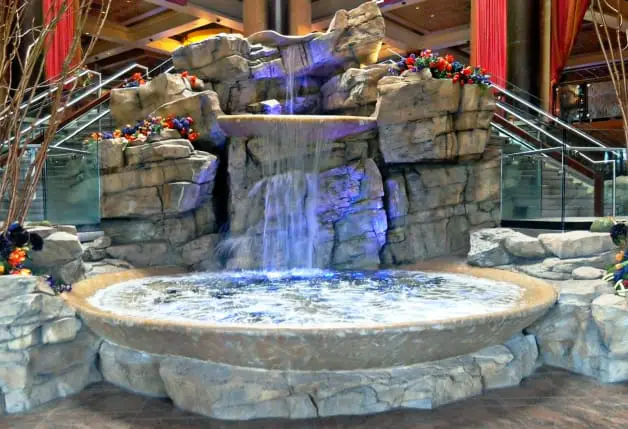 My husband Reggie and I had an amazing time as media guests of the Mount Airy Casino Resort in the Poconos this past weekend. There were so many great aspects of this Poconos resort that I will be sharing about everything over the course of three posts this week. In this first one, I will share about the rooms, casino and some of the entertainment. I will write about the delicious food and restaurant in the second post. I will wrap up the series focusing on the health and pampering (my favorite!) aspect of the resort – the pool, spa and salon, fitness center and golf course.
Room Accommodations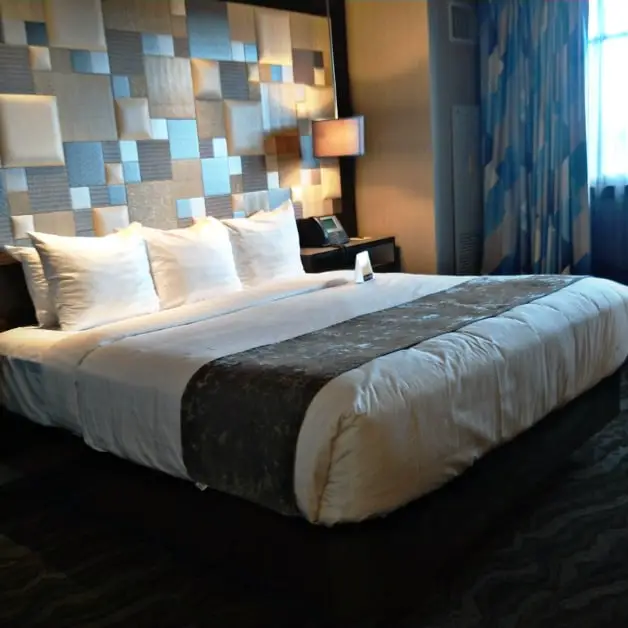 When I said that I was going to Mount Airy, friends asked about the heart shaped "love" furniture and the champagne tubs.  Alas, they were not there. 🙁  The old commercials that all of us remembered were based on the Mount Airy Lodge that was torn down. Since 2007, Mount Airy Casino Resort has been privately owned by the DeNaples family so it's a fairly new property. The new Mount Airy Casino Resort has even earned the AAA Four Diamond Award designation for six straight years. (It is the only Poconos resort with this honor.) 
Reggie and I loved our King Room. The pillow-top bed was so comfortable that I didn't want to leave the room. The bed and the Gilchrist & Soames lotion were my favorites. Meanwhile, Reggie appreciated the flat screen TV and the large bathroom. Take a peek:
Casino
Reggie and I also tried our hand at the casinos on Saturday night.  (That's the only place that you can't take pictures.) On the first floor, there are 1,800 slot machines and 80 table games. Although I don't know how to play Poker, I preferred the upstairs Poker Parlor because it is non-smoking and a bit quieter. Open 24 hours a day, the Parlor has its own bar as well as  a smaller slot machine area in  the part that is separated from the poker games. (I ended up winning a little bit of money – enough to cover my spa and housekeeper tips. 🙂 )
Since my mom loves casinos I was interested in the Bus Lounge area for future visits. Chartered buses come to Mount Airy Casino Resort from New York, New Jersey, Philadelphia and even Atlantic City. (I noted one line in particular – Martz Trailways – because it comes from New York City and is approximately two and a half hours away. That's the one my mom would probably use.)
Entertainment
We went to the Gypsies Lounge nightclub on Friday night. Reggie and I are more into hip hop and R&B music, so the rock music wasn't really our cup of tea. That's fine though because everything isn't for everybody. The sound was great and there were people dancing though. Here's a snippet of Zed D' Lance:
During the summer, concerts are sometimes held in the parking lot area of Mount Airy Casino Resort. For instance, Michael Bolton performed on July 2nd. The Fourth of July fireworks are also a very popular local attraction. The resort shoots the fireworks behind the lake and everyone (
not just resort guests) 
is invited to the family-friendly event.
The pool area (which I'll talk more about in my third post) is home to several nightclub parties from Memorial Day to Labor Day. Little Jon and Shaggy are just a couple of the artists who have recently performed pool-side. (YEAH!!!)
There is also an exclusive Onyx VIP Club for onyx level card members. There, they get free drinks and can bring one guest with them. Members also get invited to celebrity meet-and-greets with a variety of entertainers. There are four casino card member levels. Everyone starts off at the bronze level. Once you have played over $5,000 on your card, you advance to the silver level. Once you have played $50,000, you advance to the gold level. Finally, once you have played $200,000, you are at the onyx level. Membership should have its privileges!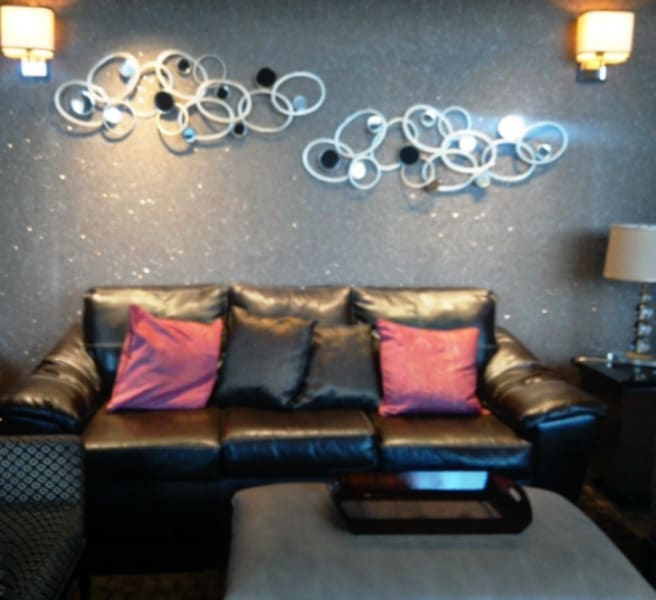 Meetings & Weddings
For larger scale events, Mount Airy Casino Resort  has an event center that holds up to 200 guests. It is often used for weddings and special events. (Guests especially like to take pictures on the gazebo during the warm weather.)
In any event, Mount Airy Casino Resort is the perfect place for a fun, romantic couples getaway. I can hardly wait to share about the rest of our stay…