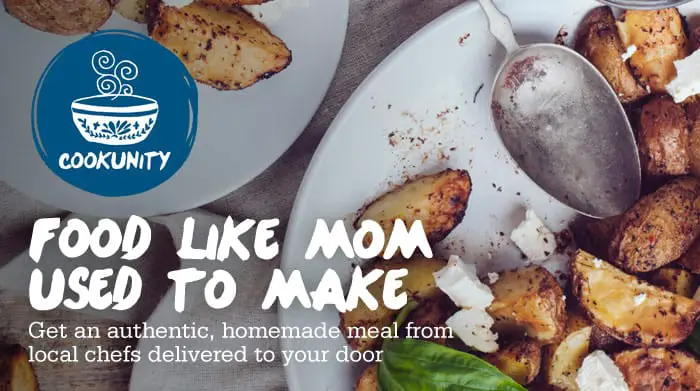 Sometimes, I am reminded of how convenient it was to live in Manhattan. CookUnity, a new food delivery service, is a perfect example of the things that I miss. Created for busy parents, CookUnity has real NYC chefs prepare homemade meals with farm-fresh ingredients that are delivered to your (Manhattan) home. On top of that, the meals are actually really affordable – comparable to ordering (not as fresh and healthy) takeout food. Recently, CookUnity made a delivery exception for (Queens-living) me and delivered a few meals for me and my family to review the experience. I will tell you more about that but be certain to read until the end of this post if you are one of my Manhattan readers because CookUnity was kind enough to provide me with a special code so that your family can try out their delivery service too!
The Coleman Experience
CookUnity hosts guest chefs in their kitchen. The chefs come up with daily menus using the available fresh, locally-grown organic produce, hormone-free proteins and sustainably-sourced seafood. I'm still trying to figure out how they manage to do this while making the meals healthy, tasty and affordable. Even Sean, the ¨most selective¨ eater in our family gave the meals a thumbs-up.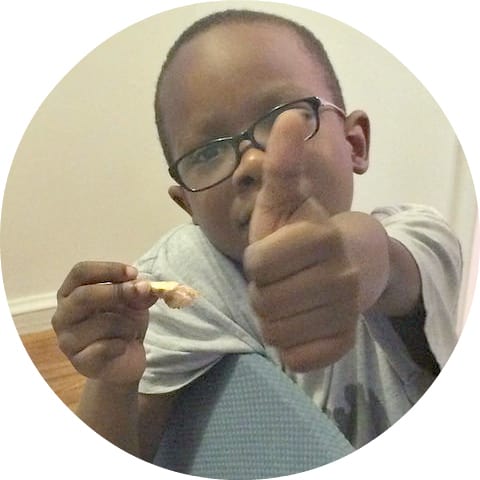 A few things to note…
-You can find the CookUnity menu for the week up on their
website
. (Once you sign up, you can also opt to have daily and/or weekly menus sent to you by email.

I ordered the two meals for the day and the kid's meal from the website. After signing up, I received an email from CookUnity that welcomed me to their community and then I received an order confirmation email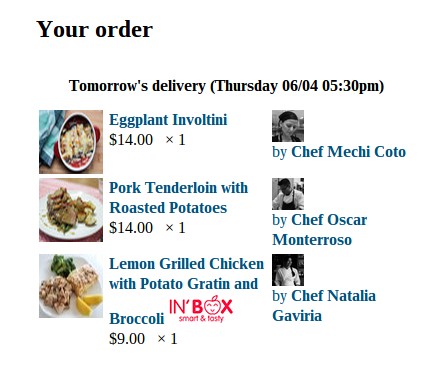 There were some hits – the potato gratin, pork, chicken, potato, roasted red peppers and haricort verts (string beans). My family doesn't like broccoli, but I enjoyed it – especially the broccoli with Parmesan cheese. There were also a couple of misses – the eggplant and flan. To be fair, I would not have normally ordered the latter, because no one in my family likes them. (I knew that I didn't like them but I wasn't sure about the rest of my family until after I ordered them.)
I appreciate how each dish come with a menu card that includes a meal story, the ingredients, nutritional information, simple reheating steps (meals are delivered cold) and a story about the chef who created the meal. The nuts and cookies that were included with the meals were also nice touches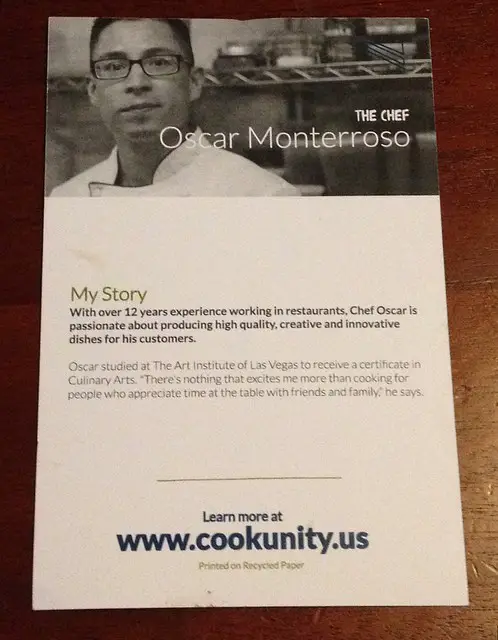 Overall, I was happy that I was able to enjoy a great, healthy meal with my family – one that I didn't have to cook!
The Special Offer
I was pleased to note that CookUnity actually heard about me from some current Mom in the City readers. (Thank you!) As a special thank you, CookUnity is giving Mom in the City readers from Manhattan a coupon code to try their food delivery service. Simply use coupon code "momcitycookunity" to receive 2 FREE meals. (I will take down this code once it expires, so hurry up and use it.) Enjoy!