If you happened to be watching The Nate Berkus Show on Tuesday, you might have seen a familiar face…mine! Let me tell you the backstory…
Last month, a blogging friend Renee sent me an email saying that she had referred me to one of the producers of The Nate Berkus Show. That same day, one of the producers emailed me to see if I wanted to be featured in a segment about having a wild colored bathroom/bathroom tile. That didn't fit me so I referred some friends.
Then, the producer emailed me back asking if I wanted some instant upgrades to my living room. Yes, yes I did! In my mind, I thought, "Ooh, Nate's people will come and help me make my living room more homey and work out my curtain situation…yes!" (I'm great with organizing and de-cluttering, but design just isn't my strength.)
Things didn't work out as I had planned, but it was still great. Instead of coming to my home, they "kidnapped" my furniture and took it to their set to make the updates. You can see a portion of my segment below:
I really liked what Nate did with the room.
-I loved the pillows and throws that brightened up the room. (Now that I have a visual, I can just update them periodically.)
-I also loved the floor lamp. The truth is that the track lighting with dimmers is one of my favorite parts of my living room. I haven't used the floor lamp, but I do like the way that it grounds the room.
-Lastly, I loved the direction about the wall hangings – to hang them at eye level. For some reason, I had the idea that pictures needed to be higher up on the wall to "break up" the space. As Nate told me later (off-camera), "No, that's why it's called a wall." Duh, Kim. My husband gloated because he had told me to hang them lower too. Oh, well…
I also loved the layout of my furniture on his set. Unfortunately, I couldn't replicate it in my home. All of the wiring for my entertainment system is in the corner that it was originally placed, so I can't really move it. I also liked how he had the loveseat making a "L" shape with my sofa…it was more cozy. Unfortunately in my home it would be placed right near the door to my sons' room. The only other thing is the curtains. I'm back to the drawing board, but at least I know which curtains to buy when I figure out how to hang them. Here they are: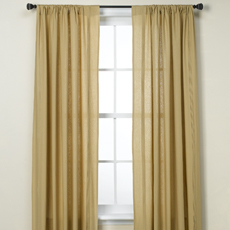 In any event, I was so happy to get some great direction. It helped that Nate was a sweetheart too. Barbara Corcoran was an added bonus. When I was in the business world, she was one of my mentors in my head. After the show, I mentioned to Barbara that I loved her book If You Don't Have Big Breasts, Put Ribbons on Your Pigtails: And Other Lessons I Learned from My Mom. Barbara then asked me if I had big breasts (?!) which I had to admit that I did. "Then you cheated on your way to success," Barbara quipped. She cracked me up!
In any event, I am inspired to tackle each room of my home this year – merging form and function. Nate did my living room, so I will be tackling the other half of my front living area (including the curtains!) over the next month. I'll keep you posted!
Is there any area of your home that you would love to improve in 2011?
(Image: The Nate Berkus Show)