Congrats to the winner: Stacy

In my 7 Favorite Things for 2007 (January) post, I wrote the following:
I have strongly hinted to my husband that I want a double sibling ring from http://www.nelleandlizzy.com/ after giving birth to our second son in February. ($72)
Happily, my husband took the hint and bought it for me shortly after Sean's birth. For the last couple of years, I've worn the Michael/Sean ring every day. It's great to look down at both of my hands and see all three of "my guys" represented.
Earlier this month, Nelle & Lizzy's public relations company reached out to me. They wanted to let me know that Nelle & Lizzy is expanding this fall to include bangles, new rings and necklaces. You should definitely take a look at their site to see their new offerings. A little bit more about the company:
"As a gift after the birth of her third child, Lizzy was given a simple triple band sterling silver ring. She wanted to have the names of her three boys impressed on the outside – one name on each band. She took her ring to numerous jewelers and called all over the US trying to get this "simple" project done but kept hearing the word "impossible". So she called her friend Nelle who is an experienced designer and together they began the long journey of creating a jewelry line that subtly expresses who is in your heart. After seeing all the "cutesy" mother's jewelry out on the market, they wanted to develop a simple piece of jewelry, which is understated yet meaningful. After literally years of designing, researching and fabricating they released the original Nelle & Lizzy rings."
Meanwhile, I am delighted to share that Nelle & Lizzy is giving one lucky Mom in the City reader one of their single engraved rings ($48):
"Custom stamp your ring with the name of a loved one, a date or a phrase. Our single rings can be stacked together or worn on either side of an existing ring. Simply select your size and let us know what you would like stamped on your ring. There is a maximum of 12 characters.When developing our customization system, we debated between engraving the silver and stamping it. We decided to develop a stamping system because the indention is deeper and creates a much bolder look. Engraving scratches the silver off leaving a much shallower indention whereas stamping displaces the silver and makes the grooves deeper. Almost all customized jewelry is engraved, not stamped."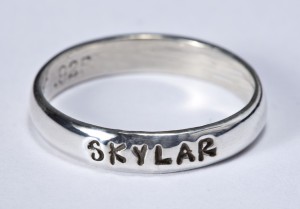 To win, please share your favorite Nelle & Lizzy product in the "Comments" section below by September 7th.
For an additional entry (and to help me out), please fill out this regarding my upcoming local parenting guide site. (It's only 1 question!) Thanks in advance.