A couple of weeks ago, I went to a "House of Indulgence" event sponsored by New Balance Wellness in the city. At the event, I received a "sneak peak" of New Balance's new upcoming toning collection of shoes. I will write more about the shoes and the new technology when they become available in July. Meanwhile, I wanted to share about some of the "indulgences" that I experienced. Since Mother's Day is next month, you might want to put some of these on your "lists"…
First, I had a mini poolside massage by Spa Chicks on the Go. I need more massages in my life. It's on my May (Mother's Day & birthday) wish list.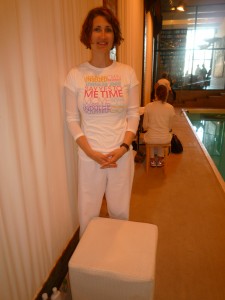 Next, I went to a cusom scent mixology session held by Sue Philips of Scenterprises. This was my favorite part and I am going to write more about it soon. Basically, I was able to design and name my own scent. I named my scent "Almost There" (from The Princess and the Frog). I can't wait until it gets here!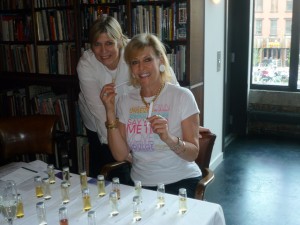 Then, I went to a Vosges chocolate demonstration. I was already familiar with Vosges, because they sponsored a Mother's Day giveaway for Mom in the City a couple of years ago. Their luxury chocolate truffes are truly a different experience. Honestly, I'm a simple chocolate type of gal, so Xocatyl, their Mexican vanilla bean and milk chocalate truffle was my favorite. If you are (or know) experimental moms who want to expand their taste horizons…black pearl truffles (ginger, wasabi, etc.) anyone?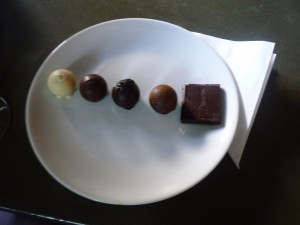 After hearing a bit about the upcoming New Balance toning collection, the last stop was an organic wine tasting by jenny & francois. I am not a big wine fan, but those who were wine drinkers seemed to enjoy their white and red wines. (The fact that the wines were natural and organic was in line with the whole "wellness" theme of the event.)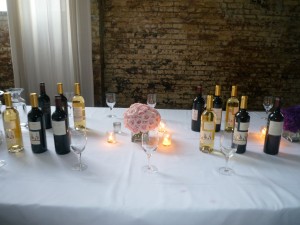 In any event, this was one of the best presented events that I have attended. If the upcoming toning shoes are anywhere near as indulgent as this experience, I will never take mines off…