On Saturday, we received a letter stating that we had officially been approved for the apartment in Forest Hills that I mentioned last week (yay!). Yesterday, my husband went to Queens to fill out the rest of the paperwork and he came home with the keys to our new place. I'm excited and overwhelmed at the same time, since July 1st (our move-in date is one week away). There's a lot to do in a little bit of time.
One of the first things that I need to do is get area rugs and curtains for each room of the house. I'm not a big carpet/rug fan, but there's this rule that a certain percentage of the floors have to be covered. (I guess that it's for noise control.) Since I don't especially like rugs, I'm a bit at a loss as to where to start. If you have any recommendations, please leave me a comment or send me an email! I'm looking for something in the navy (our upholstered furniture) or yellow/gold (wall color) family. Below are 2 that I'm considering….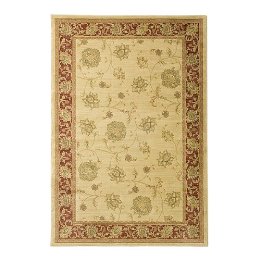 All of the windows in our current apartment have custom shades. So, I'm not sure what I'm going to do for all of the windows in the new place. We're going to go there this weekend to measure all of the windows. I haven't even begun to think about what to do with them. The good thing is that our current lease isn't over until the 10th of July, so we have a little "wiggle room" to get everything worked out.
The funny thing is that the one room that I have all set (in my mind) is the boys' room. They both love everything related to the UP movie at the moment, so that's going to be their room theme. I have the wall posters along with a coordinated rug, window treatments (roman shades) and bedding on order. Since the boys love the airplane battles in the UP video game, I bought the cutest little airplane drawer knobs for their dresser. (I'm planning on painting the dresser white. I like white as a furniture color for young kids' rooms – it's so versatile and goes with all of their brightly colored toys.) As I write this, I'm wondering, "When in the world am I going to find time to paint that dresser?!"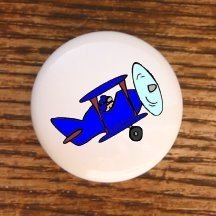 This new stage of our life (I call it "the school years") reminds me of that quote in Love Floats – one of my favorite movies: "Beginnings are scary, endings are usually sad, but it is the middle that counts the most. You need to remember that when you find yourself at the beginning. Just give hope a chance to float up…. and it will too." Well, we may not have any curtains (yet!) but we do have lots of hope…