Congrats to Emely (STOMP), Nancy (The Velveteen Rabbit), Teri (Peter and the Starcatcher), Amanda W. and Mona (Gazillion Bubble Show)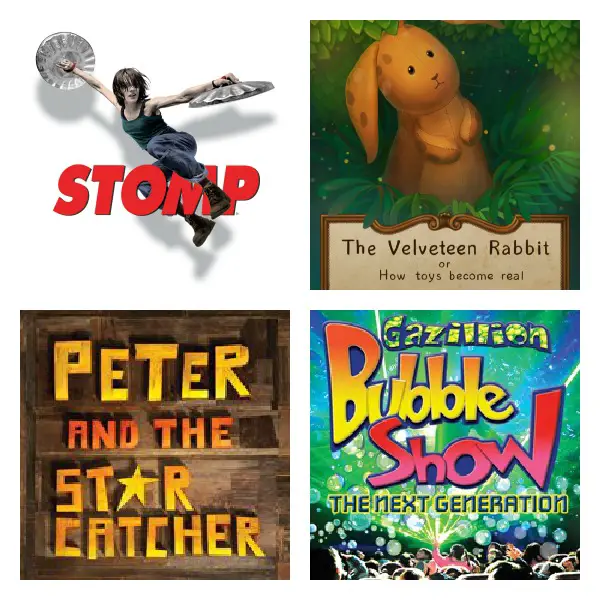 I am so excited to work on this promotion! As you probably know, I love the theater. Broadway was one of the main reasons that I wanted to attend college in NYC. (Well, that and the fact that Columbia didn't include math as part of their Core Curriculum!) Anyway, not only do I get to give discounts to some great Broadway and Off-Broadway shows, but I also get to give away packs of giveaway tickets to four different shows – STOMP, Velveteen Rabbit, Peter and the Star Catcher, and Gazillion Bubble Show!
Since, I love giving (and receiving!) experience gifts, I'm going to run these giveaways very quickly – until 11:59pm (EST) for each set of daily tickets. That way, if you don't win, you can still use the discounts to get your loved ones tickets as holiday gifts if you want to do that. Of the four shows, the only one that I have seen is STOMP. I saw it a while ago – back when Savion Glover was starring in it. It was such a fun experience…I can still remember the energy of the performers! Below, you can see the (company provided) descriptions, discounts – where applicable – and giveaway information. To enter the daily giveaways, simply leave a comment below sharing one of your favorite plays. Be certain to come back and comment for each day that you want to win the theater tickets for that day. Good luck!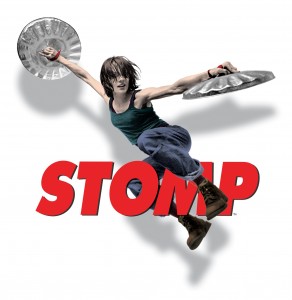 -12/5 GIVEAWAY: 2 tickets to see STOMP
"STOMP Special Offer
Tickets only $47.50* to the award winning international sensation!
STOMP is explosive, provocative, sophisticated and sexy. The idiosyncratic band of body percussionists fills the stage with magnificent rhythms, using matchboxes, wooden poles, brooms, garbage cans, Zippo lighters and hubcaps – everything but conventional percussion instruments. STOMP! See what all the noise is about.
The Critics Rave
"STOMP does for rhythm what Freud did for sex." –Time Out
"STOMP is a sure fire crowd pleaser with a rock-and-roll heart." –NY Times
"Dazzling! Stomp makes music that is infectiously percussive!" –Newsday
"Electrifying! Triumphs in the infinite variety of the human experience." –LA Times
"STOMP has a beat that just won't quit!" –The San Francisco Chronicle
"A phenomenal show! Bashing, crashing, smashing, swishing, banging and kicking – a joyous invention!" –Chicago Tribune
TICKETS JUST $47.50!* (REG. $79)
3 EASY WAYS TO BUY TICKETS WHEN USING CODE: SUB47
ONLINE: www.ticketmaster.com/Stomp-tickets/artist/844123
PHONE: Call Ticketmaster.com at 800-982-2787
BOX OFFICE: Print & bring to The Orpheum Theatre Box Office At 126 2nd Ave (8th St)
PERFORMANCES: Tues, Wed, Thurs 8pm; Sat 3pm; Sun 2pm
Visit the website for more info www.stomponline.com
*Restrictions: Limit 6 tickets per order, subject to availability, not valid on previously purchased tickets. $47.50 includes the $1.00 facility fee, regularly $73.50) Valid now thru 12/20/12 for performances Tues-Fri 8 pm, Sat 3pm and Sun 2pm. Subject to availability. Cannot be combined with any other offers. May be revoked at any time. Normal service charges apply. No refunds or exchanges."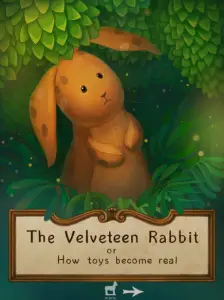 -12/6 GIVEAWAY: 4 tickets to see Velveteen Rabbit (No discount is available.)
"THE VELVETEEN RABBIT is a joyous testament to the eternal power of a child's imagination. This classic tale comes to life for a whole new generation in this wonder-filled production created by Kevin Del Aguila.
With a little bit of nursery magic, three actors and their simple props transform into a wise old rocking horse, a cavalcade of mechanical playthings, a kind-hearted fairy and, of course, a stuffed rabbit who is transformed by the love of a young boy.
Great for ages 4-8!
THE VELVETEEN RABBIT is written and directed by Kevin Del Aguila (Altar Boyz; Click, Clack, Moo) and based on the popular children's novel by Margery Williams. The production features scenic design by Lake Simmons and costume design by Patrick Johnson. Performs November 17 for 10 weeks at the DR2 Theatre- 103 E. 15th Street"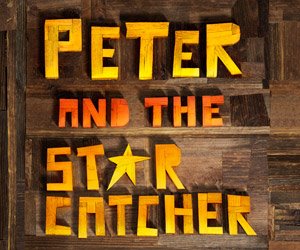 -12/7 GIVEAWAY: 4 tickets to see Peter and the Star Catcher
"PETER AND THE STARCATCHER
NOW THROUGH JANUARY 20th ONLY!
7 Reasons Why You Must See PETER AND THE STARCATCHER
1. Entertainment Weekly says it's "ABSURDLY FUNNY."
2. It's won 5 TONY AWARDS. ®
3. It's got MORE PIRATES than any show on Broadway.
4. It's the illegitimate love child of Monty Python and Peter Pan.
5. It's the MOST TONY®-NOMINATED new American play EVER.
6. Have we mentioned it's ABSURDLY FUNNY?
7. You can up to 35% on performances now through December 21.
WINNER! 5 TONY AWARDS®
WINNER! AUDIENCE FAVORITE
Broadway.com Award • Broadway World Award
IT SINGS. IT SHINES. IT'S OFF THE HOOK!
Take a hilarious romp through the Neverland you never knew in PETER AND THE STARCATCHER! Hailed by The New York Times as "THE MOST EXHILARATING STORYTELLING ON BROADWAY IN DECADES," this swashbuckling prequel to Peter Pan won an astounding 5 Tony Awards® and Broadway.com's Audience Choice Award as Favorite New Play. And now you can make it your favorite with the best prices of the fall!
BUY NOW AND SAVE UP TO 35%
All performances now through December 21.
$79 ORCH/FRONT MEZZANINE
$59 MEZZANINE
USE CODE: STARS
CLICK HERE or visit Ticketmaster.com
CALL 877.250.2929
VISIT the Brooks Atkinson Theatre box office, 256 W. 47th St. (bet. Bway & 8th Ave)
CLICK HERE for Premium Tickets
Recommended for ages 10+
For more info please visit www.PETERandtheSTARCATCHER.com
Offer subject to availability. Telephone and internet orders are subject to standard Ticketmaster.com service fees. Prices include a $2 Facility Fee per ticket. Dates, times, prices and cast subject to change without notice. Offer not valid on prior purchased tickets and may not be combined with any other offer. Blackout dates: 11/23 – 11/25. Additional blackout dates may apply. ALL SALES FINAL. No refunds/exchanges. Other restrictions may apply. Children under the age of 4 not admitted. Offer expires 12/21/12."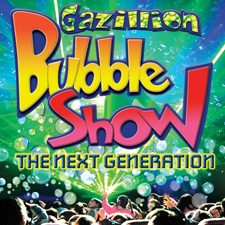 -12/10 AND 12/11 GIVEAWAYS: 4 tickets to see Gazillion Bubble Show
(That's 2 opportunities to win a family 4 pack of tickets!)
"GAZILLION BUBBLE SHOW:
The Next Generation
Tickets as Low as $39.50* Plus 50% off "Me in a Bubble" Photo
Be dazzled by new spellbinding lasers, spectacular lighting effects, and awesome display's of bubble artistry. This is a once-in-a-lifetime experience that will blow you away. A bubble-laser spectacular that will amaze everyone with mind blowing bubble magic. Step into an interactive bubble world that will make you smile, laugh, and feel like a kid again! An unbubblievable extravaganza unlike anything you have ever seen before. Adults and children of all ages are sure to be enchanted. Treat yourself, your friends and your family. You have to experience it to believe it!
What the Critics are Saying:
MommyMetro.com says, "Got Kids? You NEED to see the Gazillion Bubble Show!"
Time Out NY says, "Dazzling succession of bubbles in mind-blowing configurations.. 4 Stars!"
Regis Philbin says "Spectacular! Unlike Anything You've Ever Seen Before!"
The NY Times calls GBS "Enchanting"
David Letterman calls GBS, "The World's Greatest Bubble Show!"
PERFORMANCE SCHEDULE: Sat at 11am, 2pm, & 4:30pm; Sun at 12 & 3pm; Nov. 21-Jan. 2: Wed 11am & 2pm. Please visit www.GazillionBubbleShow.com for the most up-to-date performance schedule.
THREE WAYS TO BUY YOUR TICKETS:
ONLINE: Click Here or Visit BroadwayOffers.com and enter code: GBPOP101
BY PHONE: Call 212-947-8844 and mention code: GBPOP101
IN PERSON: Print out this offer & bring to the New World Stages Box Office- 340 West 50th St.
For Birthday Parties and groups or 12 and more call 1-866-6-GAZTIX or visit the website: www.GazillionBubbleShow.com
*Restrictions: This offer is valid for select performances through 2/24/13 and subject to availability. $38 ticket for all performances does not include facility fee or service/handling charges. Not valid on prior purchases. Offer cannot be combined with other discounts or promotions. Blackout dates and restrictions may apply. Limit of 8 tickets per order. No refunds or exchanges. Offer may be revoked at anytime."
{Disclosure: I was compensated for helping to promote these shows.}