I'm so excited that my family is taking our first family cruise this week. Each night (Internet permitting!), I will be sharing the highlights of each day along with my family's general thoughts about cruising.
Today, we checked in at around 12:30. The process was pretty painless. We dropped off our large bags before going through security – which was a breeze in comparison to airport security. Then, we checked in. Since this is a "press" trip (half of it anyway – half was comped and we paid the other half so that the whole family could go), we were able to skip the long lines by going to the VIP check-in. Work trips definitely have their perks! Then, we went on board. Our room wasn't ready yet, so we went to lunch at one of the restaurants.
This was my first experience with freestyle dining. The great thing is that there is something for everyone. In the Garden Café alone, the stations included the following: cold, dairy, carvery, hot selection, bar, grill, pasta, soup, pizzeria, Indian, hot, fresh fruit, hot dessert, sandwich station, and pastry shop. Later in the day when we passed through, there was a crepe section and even a chocolate fountain had been added! The kids enjoyed their burgers while Reggie and I had some delicious, mild Indian curry and rice. The not so great thing is that it was hard to find seating, because it was crowded with happy (for the most part), hungry families. It was a little "whelming" initially for me, but my guys didn't mind. They were all about the food. "They have sushi!" Michael exclaimed. "Thank you Mommy. It's (the burger) SO good. Thank you for the cruise," Sean chimed in as they ate.
After lunch, we were able to go to our room. I have mentioned before that I am not especially good in tight spaces, so I was a little concerned that four people would be in such a small place for seven days. The fact that we are in a balcony room makes it so much better, because I can always "escape" for a breather as needed. As my husband asked, "How big did you expect for it to be? It IS a ship." (Yes, he is my reality check! 🙂 )
We attended a special group dinner at Cagney's Steakhouse after participating in a brief safety drill and sail away party. It is one of the specialty restaurants on the cruise. (A few of the dining spots on the ship are included in the ticket price. However, several of the restaurants charge a per person cover charge – ranging from $10 – $25 on this particular cruise.) The meal was delicious and it was great to spend some time with Carol and Jessica along with their sweet kids. I had a mushroom appetizer and salmon main course while Reggie had the shrimp and chicken. I also ended up eating my husband's strawberry cheesecake for dessert. (I had ordered the crème brulée, but it wasn't the texture that I had expected.)
We went to the welcome show right after dinner. The lively Cruise Director shared a few of the things that we would experience this week. As I watched the dancers, I thought about Jennifer Hudson working on a cruise ship. I could see how that happened – the cruise performers were very talented! Michael loves magic tricks so he was especially enthralled with the magician and his smooth hand tricks while Sean smiled from ear to ear over the first "sliming" of the cruise.
That is it for Day 1. So far, the biggest surprise has been how smooth the actual physical sailing has gone. We didn't even know that we had set sail until we looked out the window, so I hope that this keeps up. In any event, at the end of the day when I asked the boys to share their favorite part of the day, they both answered, "Everything!" I'll take that…and this (the first sunset)…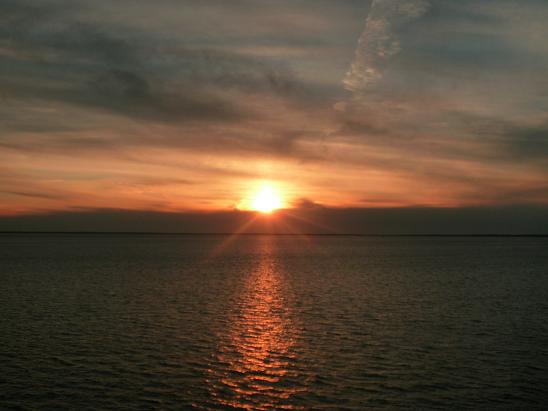 I will be back with more updates tomorrow. Please let me know if there are any specific questions that you have about family cruising and I will get them answered.
This was a "press trip + 1", so I only paid the normal cruise price for 2 family members (since everyone insisted on coming along).