Today was a special day, because it was Sean's fourth birthday. What a difference a year makes. Last year, he was having dental surgery (and I was having a major anxiety attack!) on his birthday. We definitely prefer freestyle cruising to celebrate!
After breakfast, we went to the Sports Court and played basketball as we pulled into Port Canaveral. Then, we went to a Nick Jr. Storytime reading/acting out of "Dora Saves the Mermaids". Sean is in love with Dora so that was the perfect morning for him. Next, we went back to the room for a bit in order for Sean to see the room that had been secretly decorated for his birthday. (You can have your room decorated and a cake delivered to celebrate birthdays/special occasions …for only $30. That is less than the price of a cake in NYC, so we were happy to buy it!)
Sean was having so much fun playing with his balloons that we stayed in the room for a bit while Reggie and Sean went back to the Sports Court to play around. Later, we had a special birthday lunch at Cagney's. (Michael had the famous spaghetti tacos – yum/yuck :-)) After lunch, we met some of the Nickelodeon characters (Air Bender and Boots) and the boys took pictures with them. They had a lot of fun posing and being silly. Sean kept saying, "This is the best birthday ever!"
We spent a lot of time just roaming the family sports section of the ship. It wasn't as crowded since several of the passengers had left the ship. We didn't get off because we are coming back to Florida next month. Anyway, we played a game of modified jumbo chess, ping pong and practiced our (really bad) golf swings. Miniature golf is so much easier!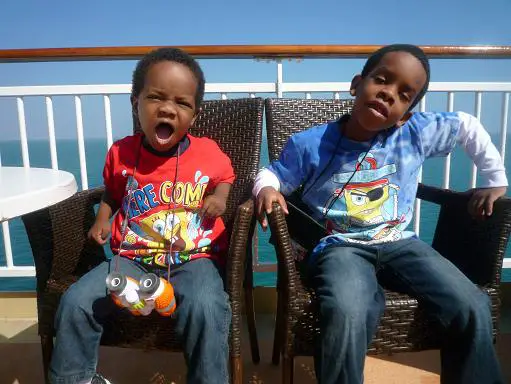 We danced the night away at a 70's Disco Groove Party after dinner. Sean loves to dance, so we partied to some funky disco. Reggie wouldn't let me take pictures as we all learned the dance moves to "YMCA" and the John Travolta dance version of "Staying Alive". Ha ha ha ha…staying a-live! Overall, it was a wonderful day and I'm so happy that we were able to spend it together as a family. Life is good!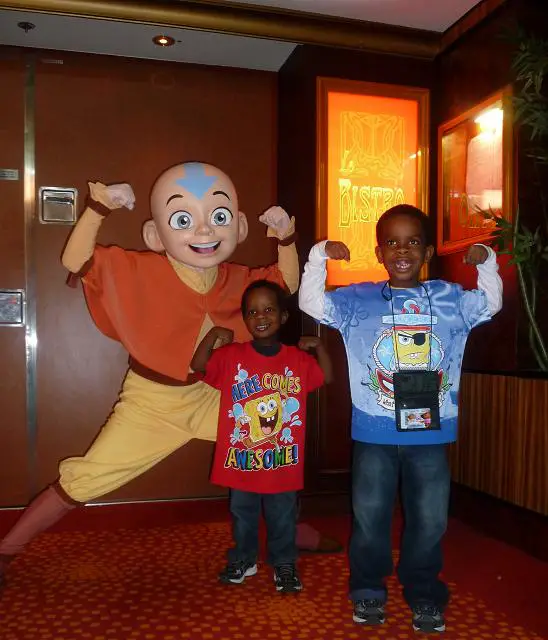 This was a "press trip + 1", so I only paid the normal cruise price for 2 family members (since everyone insisted on coming along).