We slept well last night so it was hard to get up this morning. Once we did, we had a quick breakfast before starting the day. I did a video interview with Tom Kenny (the voice of SpongeBob Square Pants) and Bill Fagerbakke (the voice of Patrick Star).
Here's the thing…Michael has only been allowed to watch SpongeBob since he went to grade school. Before, I wouldn't let him watch it because he would pick up some of the naughty phrases and repeat them. Now, he has a better grasp of what is appropriate to say and what is not. I will watch some of the SpongeBob movies with the kids though. For some reason, I find the movies to be a lot tamer language-wise and they usually have great lessons (i.e. loyalty, friendship, etc.) Anyway, when I was asking the kids beforehand if they wanted to ask the characters anything, smart aleck Michael said, "I'll ask them why wouldn't my mom let me watch your television show?" Suffice it to say, I didn't take him with me! Sean ended up asking SpongeBob, "Why he worked at the Crabby Patty. Tom and Bill were great. I will post the interview next week when I get home.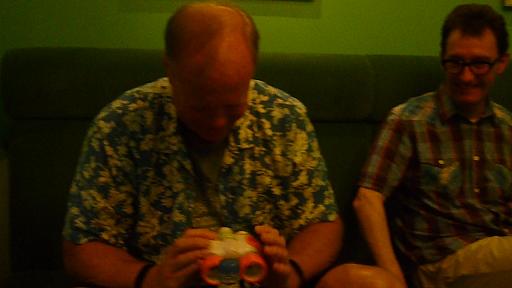 The rest of the day was a casual blur. Reggie and I put the kids in Kids Crew for a couple of hours while we sat out on the balcony of our room and talked about what we learned this week about our family/what we wanted to change when we got back home. (Yes, my dear husband "humors" my reflective nature.) A "Big Time Rush" screening with Ciara Bravo, basketball at the Sports Court, watching the "Sorcerer's Apprentice" in our room and a "jam" with the voices from SpongeBob Square Pants rounded out the rest of the evening.
One other highlight of the day was having dinner with Carol, Jessica and CanCan at the Azura Dining Room. It was fun to just relax and chat for a bit. We all agree that being able to travel with our kids is a gift…for them and for us. In any event, they made me laugh…and I love to laugh. It was a great way to end Day 6…
This was a "press trip + 1", so I only paid the normal cruise price for 2 family members (since everyone insisted on coming along).