I must admit that I initially hesitated when received an invitation to a Pledge Multi Surface Cleaner "Pampering for You and Your PC" event. I love being pampered, but I had a negative word association with "Pledge". It really didn't have anything to do with the actual product. Rather, I remember my (ex) step-mother making me clean all day on Saturdays. She had me use Pledge on the wooden furniture. I'm an adult now, so I don't call people "evil", but let's just say that she definitely made me feel like Cinderella! In any event, I had never used Pledge since those early cleaning days.
I'm happy that I decided to go though! I (and some fellow mom bloggers: Katja, Renee, Esti, Wendy, Isabel, Amy and Carol) received complimentary manicures, pedicures and shoulder massages (so relaxing!) and yummy food too. While we were being pampered, our laptop computers were being cleaned with Pledge's Multi Surface Cleaner. (My "Wordless Wednesday Ahhh!…Spa" photos were from the event.) Let's just say that I "floated" away from the evening.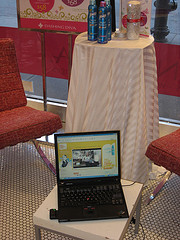 The thing that I like the most about the Multi Surface Cleaner is that it is great for cleaning/dusting pieces that are a combination (like wooden tables with glass panels). It's not just for wood anymore! I also like that it cleans electronics. I was speaking with some of the moms and we were talking about when we would/would not use the product. When it comes to places where food is on/that we and our families might eat off, we'd use more natural cleaners (i.e. method, Seventh Generation, etc.). However, no one is eating off our computers, televisions, etc., so those are the type of things that we would use this type of product on.
If you'd like to try this product, you can get a $1 off coupon at How I Clean Now. On the site, five bloggers (including Katja) get help with their cleaning challenges. Trish Suhr of Clean House also gives tips and advice for everyone. (When I had more television time, Clean House was one of my favorite shows. I just couldn't believe that people would actually let the world see them living that way!) As for me, I would not be good at this type of exposure. When we had a housecleaner come in once a month to do the "deep cleaning", I pre-cleaned and cleaned a bit more after she left. What can I say, I'm particular! As one of the mom bloggers said while we were discussing the topic (not in a mean way) "Oh, you're that type." Yes, yes I am.