Last month, Michael, Sean and I were guests at a PBS KIDS Webonauts Internet Academy that was being held at the Intrepid Sea, Air and Space Museum in NYC. Since he likes most events that are related to computers, I wasn't altogether shocked that he had fun. I was pleasantly surprised that he was interested in the theme (online safety) though. I guess that is the great thing about technology…it can make mundane topics more engaging and entertaining. Although my kids are still pretty young/don't really go away from any page on the computer that I put them on, I still think that it's important to give them the tools to stay safe online.
PBS KIDS GO! launched the new Webonauts Internet Academy online game in order to teach kids "how to be safe and respectful online". (It is free online at PBSKIDSGO.org/webonauts.) Basically, kids encounter 12 missions that test whether or not the kids will stick to the Webonauts' motto: "Observe, Respect, Contribute." The correct responses are pretty straightforward, but Michael was still excited every time that he had the right answer. Once all of the missions are completed, the kids become full-fledged Webonauts and earn their Webonauts Internet Academy Certificate. We received a certificate at the event, but parents can also print them out at home.
After the event, my kids decided to close down the Intrepid. 🙂 We have to go back to the museum when we have more time because there is a lot more for the boys (and me!) to explore. (You can see more photos from the event and the Intrepid over on my Webonauts Flickr set.)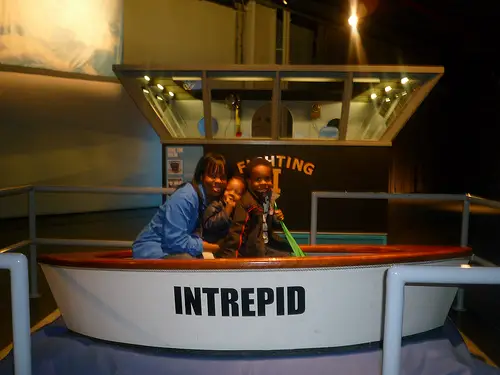 In any event, have you already started to teach your child about online safety? If so, how are you doing so?