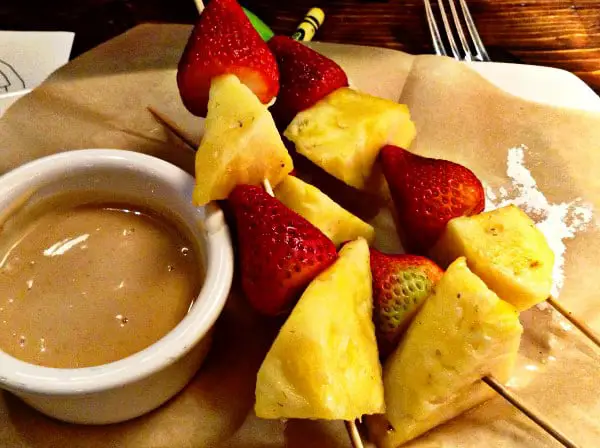 Last week, the kids and I went on a media visit to Guy Fieri's midtown NYC restaurant, Guy's American Kitchen and Bar.  I will write a review about our visit later this week, but I want to share this Peanut Butter Caramel recipe for a dip that was served along with the fruit kabobs on the "Kids Meals" menu. The manager, waitress, and chef all (separately) recommended that we try it…and it was DELICIOUS!
Since not everyone can come to NYC, I asked the chef (Henry Rivera) how he came up with sauce and nicely asked for the recipe. He mentioned that initially he was tasked with creating a fruit kabob platter that came with peanut butter, yogurt, and caramel dips. After realizing that three separate dips would take up too much space, he came up with the idea for this 3-in-1 treat. Enjoy!
Peanut Butter Caramel Sauce Recipe
(Recipe courtesy of Guy's American Kitchen and Bar)
Ingredients
4 oz. heavy cream
4 oz. peanut butter
4 oz. caramel sauce
4 oz. yogurt (or sour cream)
Directions
Warm all of the ingredients and mix them together well.
That's it! You can serve the dip along with strawberries and pineapples on a skewer. Cored and cut green apples in a bowl are also a nice addition.
If you and your kids don't have any nut allergies, I'm pretty certain that you will enjoy this recipe. (I had forgotten how much my kids love to dip things! Are your kids "dippers"?)