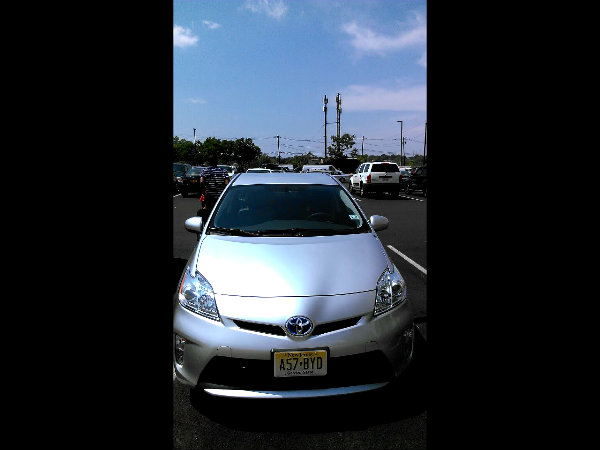 I have written several posts about our trip to Raleigh, NC. Now, I want to tell you a bit about the actual road trip down and back. We were fortunate enough to be loaned a Toyota Prius Four hybrid car for the duration of the trip. Since so many people in general (moms in particular) are interested in eco-friendly options, I was thrilled that we would get a chance to test one out.
Before the Prius was dropped off, I reached out to my Twitter and Facebook friends. I wanted to know if there was anything that Reggie (my husband/driver) needed to know when going from driving a "regular" car to a hybrid? The most common answer was to remember to turn off the car because it is very quiet. (It is!) A few people also noted that they had to get accustomed to the difference in power. As a Facebook friend summed:
"I've rented a Prius before when I went on vacation. It's a smooth, quiet and efficient car, makes a perfect car for long commutes. As for power it is what it is…if you want something fast and powerful buy a car with a 400+ horsepower V8 engine.

I also asked the Prius reps about the power issue. The response that I received from Wade Hoyt of Toyota (a former auto editor at Popular Mechanics) was also helpful:
"First, a little background on hybrids: They are not hot rods or high-performance models. Power and fuel economy are mutually exclusive, and the acceleration of most of our hybrids is best described as "leisurely." Once you have the accelerator floored, the car is doing the best it can, and pressing harder will not change things, although it's a natural reaction. I've sometimes pressed hard on an imaginary "brake pedal" when riding as a passenger with a driver I thought was going too fast. I didn't help.
So, seriously, it's the distance the gas pedal travels, not how hard you push on it that determines any car's acceleration. The Prius also has ECO (economy) and PWR (power) buttons that change the car's response to movement of the accelerator pedal. If you set the PWR button, the car will accelerate more quickly for a given movement of the pedal. It won't actually develop any additional power, but it will feel peppier."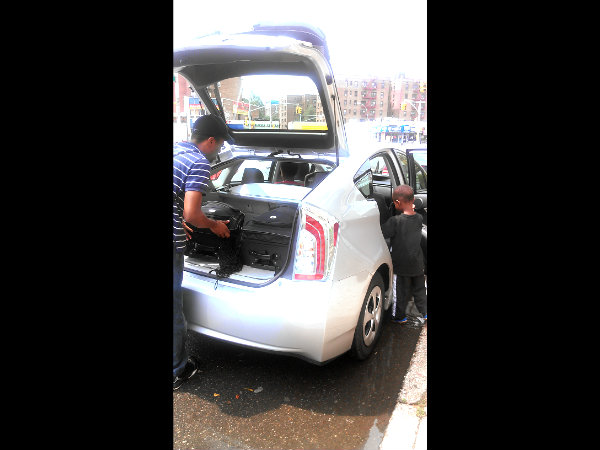 Well, Reggie did not have any issues with the Prius at all. He enjoyed driving it. (Actually, that's not true. He had an issue getting the car to start, but once he read the manual * cough * everything went smoothly.) In fact, this is the first car that we have ever reviewed that Reggie actually placed in the "for future car purchase consideration" category. The model that we borrowed had a suggested retail price of $28,235. Personally, I thought that was expensive. Reggie and my mom disagreed. They thought that it was reasonable based on calculating what is saved (approximately $7,100 over 5 years) in fuel costs. They are the "drivers" so I will take their word for it…
In addition to the excellent gas mileage, smooth ride, and safety features, there were a couple of other features that we especially liked about the Prius:

-The built-in navigation system: We own a portable navigation device, but it was unnecessary for this trip. It was easy to find our destinations (from NYC to VA, from VA to NC and from NC to NYC) with no issues.
–The Entune system: If you have a compatible smart phone*, you can try in-car technology. Entune is a collection of popular mobile applications and data services that are now accessible right from inside your Toyota. hands free calling and for audio streaming via Bluetooth wireless technology. I must say that my favorite aspect of Entune is the Pandora accessibility. (When I get tired of talking, I like to turn to my favorite Pandora channels!) Since I was testing out a Droid phone during the time frame of my trip, I just wish that I had found this YouTube video before we tried to figure it out…
In any event, I was grateful that the Toyota Prius 4 brought us safely home. We passed two major accidents – one on the way down to Virginia and one on the way home from North Carolina – which reminded me to be extra thankful for safe returns! As we returned home, my 5 year-old son Sean said, "I like this car. We should keep it." I like the way that kid thinks…
However, there are road trip "issues" that not even the Prius can make better. For instance, as I noted in one of my trip Facebook updates:
While waiting for Reggie and Michael to join us for lunch at the rest stop, I mentioned to Sean that we still had a long way to travel.
I asked, " Are you going to behave for the rest of the trip?" With a straight face, he responded, "Only God knows the answer to that question." Okaaay…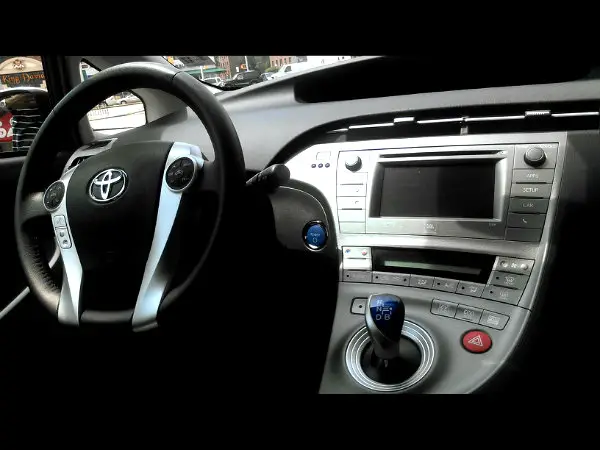 {Cross-posted from Foodie City Mom sister site.}