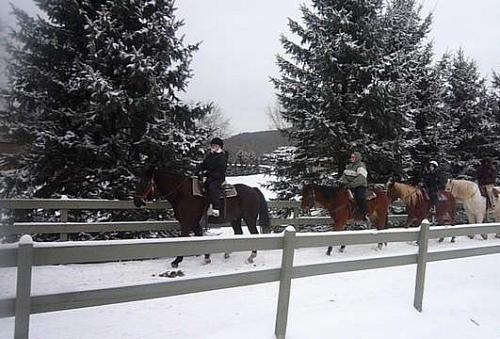 We had a really great time this past weekend as guests of Rocking Horse Ranch Resort in Highland, NY. The kids and I met up with Reggie in the city after school on Friday to drive up to the resort. In theory, it only takes 1 ½ to 2 hours to get to Rocking Horse from the city. We were a little sidetracked (okay…lost) though, so it took us about three hours to get there. It was well worth the drive, because we had a blast the entire weekend. After checking in, we had dinner. The thing that I really liked about the meals was that you sat with new people at every meal around the large tables. It was great to hear the various stories regarding what brought people to Rocking Horse and what they were enjoying the most. The food was good overall, but the salads and appetizers were especially great.  (I'm going to try to recreate the "Cantina Salad" soon!) Later that night, we saw a juggler, Brad Zupp, whom the kids really enjoyed, before calling it a night.

Since Saturday was our full day at the resort, I packed it full of activities. To my (pleasant) surprise, no one gave me any resistance :-). While Reggie and I went horseback riding on a trail ride, we checked the kids into day camp. (I loved that child care during the day is included with the "all-inclusive" package. That is not always the case!) The kids had fun creating crafts and playing games while Reggie and I enjoyed riding horses in the snow. Then, we went to lunch. After lunch, we went skiing and had an impromptu parents versus kids snowball fight . Then, it was off to the rifle range. (Yes, we broke our "no guns" rule. We went back and forth about it, but "A Christmas Story"-one of my favorite holiday movies- tipped the scales in their favor. Really though, if they can't shoot at targets at a Western themed ranch getaway, then when can they? Shhh…don't tell the grandparents!) After a trip to the "Fun Barn", it was time for dinner. While the kids were playing in the bouncy house and ball pit and climbing the wall, Reggie and I played ping pong. Then, we tried to teach the boys how to play volleyball and racquetball. They might need a couple of more years for those two sports though. After a burger dinner (the prime chopped sirloin burgers were exceptional), we went to see an illusionist perform before going to bed.

On Sunday, I let Reggie recover in the room after breakfast while I took the kids for their pony rides. Alas, horses aren't in our future. Reggie was up all night having breathing problems. It turns out that he is allergic to horses. (Thankfully, it wasn't as bad as the cat allergies that landed him in the emergency room!) The kids enjoyed riding the horses though. Their dad's allergies don't seem to have passed on to them. We all met up for snow tubing after the horse rides and it was one of our favorite experiences. After a quick lunch and a trip to the gift shop to buy some souvenirs, we were on our way back to NYC…despite the boys' protests/pleas to stay another day!

Since Reggie and horses don't get along, we probably will not be returning as a family to Rocking Horse Ranch Resort. That makes me kind of sad, because it really was a great experience….allergies! I definitely recommend it as a family getaway though. Before I went, a few friends mentioned how much they had enjoyed their stays at the resort. I really enjoyed our stay too. You can find the all-inclusive rates (kids 2 and under are free)  and such on the resort's website, but I will just end with some of the stories from my co-diners. In any event, I walked away with a whole new idea regarding what "gifts" we should give our kids moving forward…more memories, less stuff.
-A family with two young sons (a one year old and a four year old) was visiting from Manhattan for the weekend. The dad and older son had a lot of fun skiing…although the dad wondered aloud why he was so sore after skiing unlike in his "younger" days.
-A family with a little girl from Westchester shared how instead of getting their daughter gifts for Christmas (since she gets so many from family and friends); they buy her experiences like the trip to the resort. Reggie and I thought that was so smart and such a great idea. When you have friends and family who are generous in the toy department (like we do), why not create a lasting memory as a gift instead? Let's just say that our kids may never get another physical gift from us again. (I'm only slightly exaggerating.)
-A mom came with three teen girls. Two of the girls were her daughters. One daughter was there celebrating her birthday, so the third teen was her friend. It was really sweet, because the birthday girl acted like she was too old and too cool to care when she saw other younger diners getting cake, balloons and the "Happy Birthday" song – until she was surprised herself. Then, she was beaming!
-Two elderly women came with two teen boys and two teen girls. One of the women was the grandma to one of the boys and one of the girls and each grandkid brought along a friend. The elderly women were making us laugh will all of their wine references. "Oh yes, we tell them to go have fun. We'll be at the wine tasting!" In all seriousness though, there really was something for everyone. I saw all age groups-from babies to the elderly- having a blast. What do you think…would your family enjoy a trip to this resort?
Thanks to Rocking Horse Ranch Resort for inviting my family to experience the resort as their guests. As always, the opinions expressed are the Colemans! If you have any specific questions, feel free to ask in the "Comments" section or send me an email!