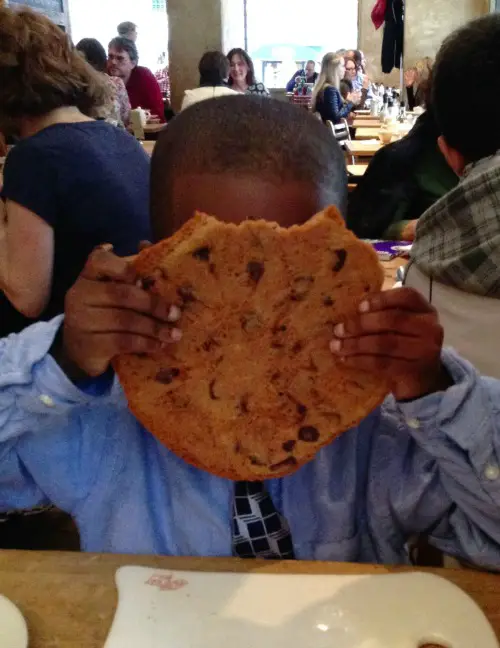 This past Saturday, I had such a great time spending several hours with my 6 year-old son Sean. Now that he is in full-day school, we don't get as much 1 on 1 time together, so I treasure the times that we do get to share. These "alone" times magnify what a funny and special (in the good way!) little boy he is growing up to be!
Anyway, we went to see the family matinee performance of The Dance Theatre of Harlem that I had mentioned before. During the intermission, we had the pleasure of meeting one of the main dancers, Michaela DePrince and she was kind enough to take a picture with Sean. (It's too bad that I took a blurry shot. Oh, well…)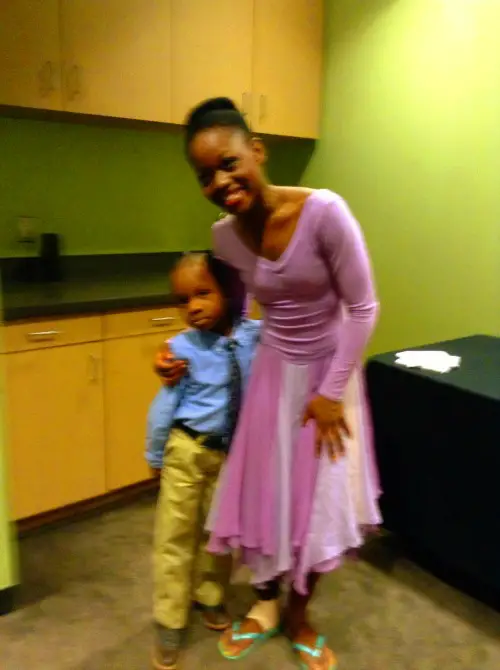 Sean loves to dance, so he especially liked the last section of the performance…"Return". It was a blend of funky music (James Brown and Aretha Franklin) and a mixture of classical and urban dance. Sean gushed, "My favorite part was when the guy did the Harlem Shake!" Inspired by all of the dancing, he broke out into a little shuffle dance on the streets outside. (He cracks me up!)
Before we went home, we stopped by Le Pain Quotidien for a snack. Their menu was super healthy (organic, low-fat, etc.) EXCEPT for the desserts. Sean ordered the chocolate chip cookie…and the cookie was bigger than his face. Seriously…look at the first picture in this post. It was taken AFTER Sean had already taken a bite. The cookie was big enough for Sean to take some of it home with us to give to his dad and brother, so it ended up being the perfect ending to a sweet mommy-son day!