Brand About Town is one of my favorite companies to work with, so I was happy to meet up with Justine regarding a new Gap campaign. (When I worked in corporate America, Ann Taylor was my favorite place to shop. Now, that I am a work at home mom, Gap and Ann Taylor Loft are my "top two".)
On my way to meet Justine, I walked past the big Gap store on Fifth Avenue. I thought to myself, "I should have bought my gift cards so that I can get in a little shopping before going home." My dad had given me Gap gift cards for Christmas and my birthday AND it's so much easier to shop/try on things when I don't have my little ones with me. Also, there was a GapKids there where I could have picked up some clothes for Sean. For some reason (I'm crazy), I gave away almost all of Sean's clothes to his younger cousin before going shopping for his new clothes for the summer season. Maybe that's why my husband doesn't like for me to give away things before he sees them….
Anyway, I met up with Justine. We talked for a little bit about the program. (It's so neat…I'll let you know more about it soon. Hint: jean party at my place…) Since we have worked together before, it was a really brief conversation. After, Justine said, "By the way, we're going to go pick you out an outfit at the Gap." Yes! Well, we actually ended up getting 3 half outfits – three tops and a tank to go under them because it's difficult to shop for my body type.
For the most part, my wardrobe staples are jeans and dresses. I have an hourglass type figure (which is only an "ideal" when you can have your clothes custom made!). Clothes that fit my chest and thigh area are baggy in the middle. Things that fit my middle are too tight in the chest and thigh area. Since jeans are going to be a part of the program that I'm doing, I stayed away from them for this trip. The Gap did have some cute little summer dresses, but they had thin straps. The tops of my dresses have to be able to cover my bra straps – I need that support. Of course, there's always the option of wearing a cardigan over the dress, but since the dress was loose, it just make me look fat and frumpy at the waist. Anyway, I ended up getting some tops to go with my jeans.
Two of the tops that I picked aren't even on the Gap website yet, but one is: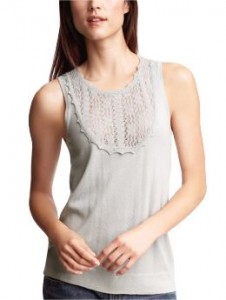 It's cute, right? I didn't really notice that all three tops were shades of grey until we arrived at the cashier. Then, I noticed that Justine (who –at my request- was helping me to pick out clothes) was wearing a grey dress. I kidded her about her "grey affection", but it was all in good fun. Grey is a great neutral AND she had pulled various colorful cardigans and dresses for me to try on. In any event, I left the store happy with my cute little tops AND excited about the future jean party (that some of you will be able to attend!).