In mid-December, I wrote about an unexpected need for my family to move from our current apartment by the end of June. Well, we found an apartment in the kids' school district and we're moving next week. That was much quicker than I expected! There are a couple of things that I will miss (i.e. my relatively large kitchen and doorman). On the flip side, there are also a couple of cool things that we will be gaining. I am most excited about the second bathroom.
"My guys" already know – that bathroom is MINE. ☺ I already have it planned out. We're moving next week and I haven't packed one box yet, but I have my small bathroom ideas and plans ready…
Color Scheme:
Pastel violet and slate grey
Paint:
BEHR Premium Plus Ultra Pale Orchid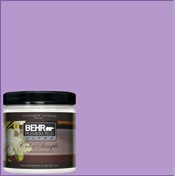 Credit: Home Depot
Bathroom Accessories:
The Kenneth Cole Reaction® Home Slate Bath Ensemble



Credit: Bed Bath & Beyond
Shower Curtain:
Reflections Shower Curtain in Purple



Credit: Bed Bath & Beyond
Towels:
Soho Bath Towel Collection (Purple and Slate towels)



Credit: Bed Bath & Beyond
Window Covering:
Artscape Etched Lace Window Film



Credit: Home Depot
(The window is super small, so it makes no sense to get curtains for them. Instead, I plan on using an etched lace window film.)
Bathroom Rug:
Kenneth Cole Bath Rug in Slate Grey



Credit: Bed Bath & Beyond
Etcetera:
-The space is small, so I probably won't put any artwork on the wall.
-The sink pipes are exposed. Since I haven't seen a sink skirt that I like, I'm going to spray paint them a slate grey color.
Fortunately, there is a Bed Bath & Beyond and a Home Depot nearby, so I can get everything relatively quickly. I'll show you the before and after photos when I am finished.

Do you have a small bathroom? If so, have you done anything special with it?