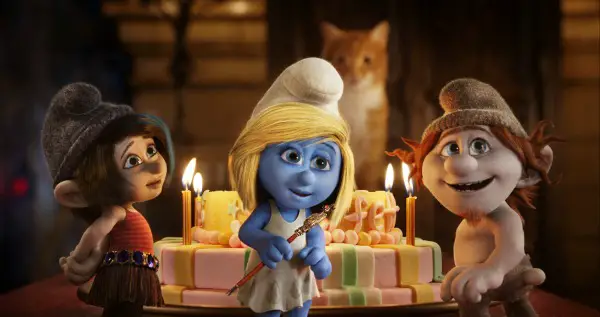 Credit: SONY
Last week, my family attended a "Smurftacular" SMURFS 2 event at Manhattan's Sony screening room. The food (including blue cupcakes from Crumbs!) was plentiful and the activities for the kids were entertaining. My oldest son Michael ended up near the SMURFS 2 video game of course!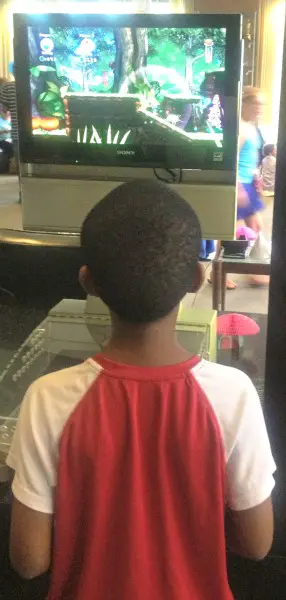 An advanced screening of SMURFS 2 was the highlight of the afternoon. If you haven't seen the SMURFS 2 trailer, you can take a peek at it below:
(My family is so crazy. We have been dropping "Oh yes I did. Oh yes I did…" in random conversations with one another since watching the movie!)
I grew up on the Smurfs cartoons, so it has been interesting seeing the movies include a mix of live action and animation. It's like when I read a book before watching a movie – the actors rarely live up to my preconceived notion of what the characters should look and talk like. I will say though that I enjoyed SMURFS 2 more than the initial Smurfs movie. I'm a big fan of having conversations with my kids about various themes in movies and I felt like SMURFS 2 provided some great conversation starters regarding the true meaning of family and the importance of the choices that we make. I also appreciated that there was more action in this sequel and that action was in PARIS. (If you haven't seen the recap of the trip to Paris that I took with my mom last year, you can see the highlights over on my Paris 2012 coverage at Foodie City Mom.)
I also asked my husband and sons what stood out to them about the movie. In addition to agreeing that it was better than the first Smurfs movie, below are their thoughts:
-Reggie (my husband): It was a story about fatherhood. It's not just biological, but rather it's about being in someone's life. Papa Smurf wasn't Smurfette's father (Gargamel was) but he loved her as his own… as did Patrick's stepfather Victor.
It was also about rising up to surpass expectations. The three Smurfs (Clumsy, Vanity and Grouchy) who went to Paris with Papa Smurf to help rescue Smurfette were not the original picks. However, they worked together to try to save her. Also, Smurfette's nature was to be naughty but the love of Papa Smurf instilled goodness into her (which she definitely shows in a pivotal point in SMURFS 2) showing that nurture trumps nature.
If you liked the first Smurfs movie, you will like it. It has more action and is more engaging than the first one.
-Michael (my 9 year-old son) was pretty brief: It was a good movie for people to learn the importance of fathers. It showed the importance of love and choosing to help others. It had humor, a little bit of action and naughtiness that made it cool. (He also liked the "Ooh La La" song…)


-Sean (my 6 year-old son) was a bit wordier.
In fact, I had to ask him to wrap up his "review" so that he could go to bed! His thoughts:
It was a good movie. It was about caring for your family. (He remembered the line "it doesn't matter where you came from it matters whom you choose to be.") You should risk your life and everything that you have for family. Smurfette's family tried to save her because they thought that she was going to turn evil like Gargamel but Papa Smurf knew that she wouldn't. It really touched the heart.
(Sean also mentioned what happens to The Naughties and Gargamel at the end, but I'll let you see that for yourself.)
In any event, Smurfs 2 starring Neil Patrick Harris and Katy Perry opens today (July 31st) nationwide. If you take your family to see it, I would love to hear your thoughts.