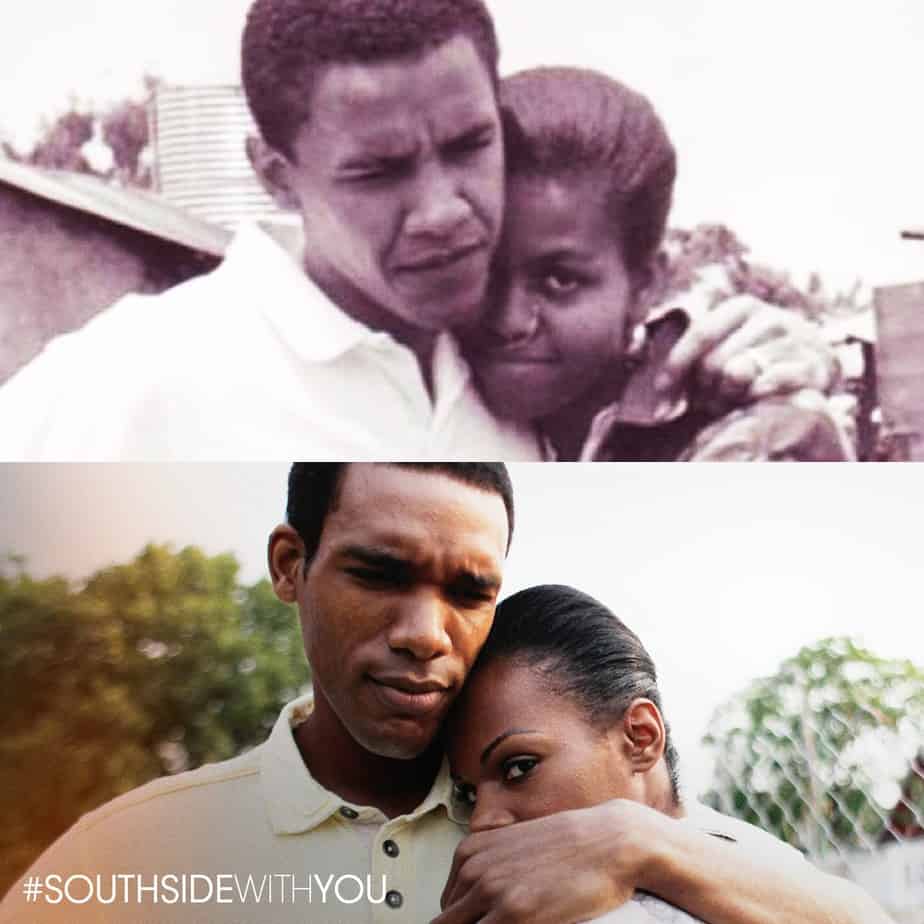 Earlier this month, I was working with a PR agency to encourage people to go out and support Southside With You, the movie about Barack and Michelle Obama's first date that (technically) opens in theaters today, August 26th. My social media (Twitter, Facebook, Instagram) assignment with the agency is over BUT I wanted to see the movie for myself to make sure that I wasn't encouraging people to see something that was great in theory (a positive love story) but awful in execution. That is why my husband dropped me off to pay to see Southside With You last night at a predominately Black Jamaica, Queens movie theater. I am happy to write that Southside with You more than lived up to my hopeful expectations based on the official trailer:
7 Things I Loved About Southside with You
1. Michelle Obama: I liked Michelle Obama before I liked Barack. In fact, her choosing him as a mate was one of the things that initially made me take his initial candidacy seriously. 🙂 Anyway, it was great to learn a bit more about her – from her sweet interactions with her devoted father, who had MS, to finding out that she plays piano and speaks French.
2. Barack Obama: The thing that I have always appreciated about President Obama is that he can "disagree without being disagreeable"/turning to personal attacks on his opponents. (Unfortunately, that quality is sorely lacking in the current election season on both sides.) Anyway, you can see how that trait has carried over from his days as a community organizer. At a meeting, he encouraged those in the community to "turn (their opponent's) self interest to mutual interest"; "to flip no to on and carry on";  and to believe that most people are good, let go of judgement and to try to walk in (their opponent's) shoes. He ends his talk by encouraging the audience to see where their needs align (with the city council in this case). As he so correctly notes, "That's where things get done." If we could all just keep that in mind, the world would be a much kinder place!
3. Barack and Michelle together: You can just see how they spur each other on to be their best. Examples include Michelle encouraging him to forgive his father so that he can be a better person and Barack challenging Michelle to do something (career-wise) that she really cares about. I especially appreciated the following exchange:
"I just want to do more." – Michelle
"Maybe wanting is enough for right now." – Barack
4. Obvious appreciation for Black artistic expressions: Since John Legend was an executive producer, I was not surprised that the music (Janet Jackson's "Miss You Much", a discussion regarding the best Stevie Wonder album, etc.) was at the highest caliber. Spike Lee's classic "Do the Right Thing" movie also plays a pivotal role in the film. The thing that impressed me the most though was the Black art pieces on display during their museum visit. From the paintings of Ernie Barnes, whose work was prominently featured on the television show "Good Times", to Paul Goodnight's "Room Full of Sisters", there were so many beautiful works of art celebrating the Black experience sprinkled throughout the film.
5. Tika Sumpter: Many years ago (back when Reggie and I were dating and working with young teens), Tika went to the same church as we did. She was a really sweet person and I remember that she sang at a camp fundraiser that we hosted. Reggie used to call her "Superstar" because back then she was really interested in a singing career. Now, she is an acting "superstar" and it was really cool to see her onscreen.
6. Intersectionality: I focused on African American and Women's topics for my college History-Sociology degree, so I especially appreciated how Michelle briefly touched on the double challenges of being both Black and a woman in a predominately White male work environment. (While Black women are currently America's most educated group,  #BlackWomensEqualPayDay was trending on Twitter this week to address the fact that African American women make only 63 cents for every dollar paid to White men.)
7. Unanswered questions: I love when a movie makes me want to do more research to see how things played out. Did Barack go back and get his father's tomb engraved? What happened to Tommy, the other Chicago community organizer that replaced Barack? I want to know!
Audience Reaction to Southside With You
I'm also happy that I was able to hear (and take notes on) the reactions of the other people watching Southside with You in the movie theater. The crowd wasn't huge but they were vocal. The great thing about this movie is that it's not just a date night movie. While there were couples at the movie, there were also groups of girlfriends watching it together. I was lucky enough to sit behind one such group of girlfriends. They were in their 30s to 50s and funny.  Some of their commentary…
(When Barack is seen smoking)
"What? He smoked?" – Friend 1
"Yes. Don't you remember. He had a hard time quitting…even in the White House." – Friend 2
(When Tika Sumpter who plays the role of Michelle Obama speaks)
"Oh, she sounds like her!"
*I agree. While I don't think that Parker Sawyers (Barack) and Tika Sumpter (Michelle) really look like the Obamas, they both did a great job of capturing their mannerisms and vocal patterns.
(When Barack picks Michelle up in a raggedy car with a hole in the floor)
"What kind of Fred Flinstone car was that?" – Friend 1
"I have ridden in a car like that." – Friend 2
"I had a car like that." -Friend 3
"He at least could have put a mat over the hole!" – Friend 1
(After Barack speaks at a community event)
" I just love him"
*Several "me too" comments were also made.
(When Barack finally breaks down Michelle's resolve not to "date" him)
"He's a smooth brother, man."
(After the "Do the Right Thing" scene)
"They killed Radio Raheem & that sh*t is still going on today!"
*Well…
(After Barack smooths things over with Michelle by buying her ice cream)
"Ice cream makes everything okay." – Friend 1
"True…ice cream and bacon" – Friend 2
"That's right. Ice cream and bacon make everything okay (followed with laughter)" – Friend 1
(At the end of the movie)
"That's it? I want more." – Friend 1
"Well, it is the story of their first date." – Friend 2
"That was a long date." – Friend 3
"Then she wakes up and her husband is the President." – Friend 1
There is also a scene in the movie (when a White male partner at their law firm encourages Michelle to "take good care of him (Barack)" when he sees the two of them together at the movie theater. That prompted a whole audience conversation regarding what the guy meant by that and whether or not Barack should have said something in Michelle's defense. It was really interesting because a man in the audience joined the conversation by saying, "As a man, I didn't take it that way." An interesting conversation followed, which just served as an example of how everyone (even within the same race or culture) sees things differently based on their personal life lens.
In any event, I thoroughly enjoyed Southside With You. I'll go see it again with my husband Reggie (whom I think will appreciate it) and/or a group of girlfriends. It's so important that we support the types of movies that we want to see made. That's why I want to strongly encourage you to go and see Southside with You if you can…preferably this weekend since opening weekend box office numbers matter so much!